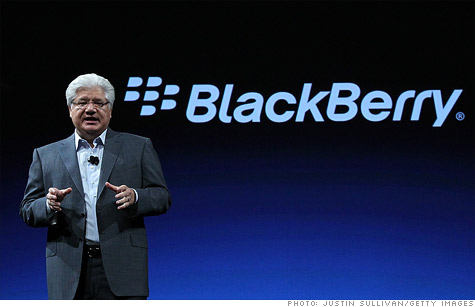 RIM co-CEO Mike Lazaridis briefly apologized for last week's outage at RIM's DevCon, then moved on to talking up its new BBX system.
SAN FRANCISCO (CNNMoney) -- Research in Motion spent about 120 seconds of its developer conference discussing last week's worldwide outage -- and then made it clear that the company is moving on.
"I want to address some recent news items," RIM co-CEO Mike Lazaridis said while opening his BlackBerry DevCon keynote speech in San Francisco on Tuesday.
RIM's (RIMM) BlackBerry service went down on October 10, kicking off a crash that spread to millions of users around the world in what the company called its largest-ever network disruption. It took the company more than three days to fully restore service.
"The worldwide outages we experienced this week were unfortunate. We're focused on making this right," Lazaridis added. He reiterated a previous announcement that RIM is offering $100 worth of free apps to BlackBerry users.
And with that, the word "outage" wasn't mentioned again.
Instead, as is common at developer conferences, Lazaridis and other RIM executives focused on upbeat news and new features. The biggest news: a new operating system called BBX.
New OS: BBX is optimized for smartphones, tablets and other devices. It combines QNX, the system powering the PlayBook tablet, with the BlackBerry OS that runs on RIM's smartphones.
As Lazaridis put it: "The whole company is aligning behind a single platform."
But Lazaridis didn't offer any timeframe for when BBX-powered smartphones will start shipping. RIM's smartphone sales have fallen short of expectations in recent quarters, and analysts are anxious for RIM to make more headway on what it bills as an in-progress turnaround. In an earnings call last month, before the BBX name was announced, RIM executives said they plan to show off BBX prototype phones "in the not too distant future."
Lazaridis and other RIM execs also spoke at length about HTML5. It's an emerging Web standard that brings mobile-app-like functions -- video, offline reading, touch and gestural interaction -- to regular Web browsers.
"[Developers] see it as the future," Lazaridis said, adding that 75% of BlackBerry developers polled by RIM said they plan to work with HTML5 in the future.
Apps: RIM pumped up the developer crowd with a few stats. BlackBerry has sold more than 150 million devices globally, though it has only 70 million active users. Still, the number of active users has grown 40% compared to last year.
More than 1 billion BlackBerry App World apps have been downloaded, and more than 140 million are downloaded per month. The next version of the PlayBook tablet will include a corporate App World, where businesses can make some apps password-protected or available only to their employees or clients.
BlackBerry developers make more money on their apps than they would if they developed for Apple's (AAPL, Fortune 500) iOS or Google's (GOOG, Fortune 500) Android, Lazaridis said.
Alec Saunders, the VP of developer relations, took the stage to "bust myths" about BlackBerry development.
"Myth: BlackBerry devs can't make money," Saunders said. "13% of our developers have made more than $100,000. Only 1% of developers for iOS have made more than $1,000."
Developer reactions: The crowd at DevCon appeared to respond well to RIM's announcements, and many seemed bullish on the company's future despite its recent problems.
One young, bespectacled developer took offense at the idea that last week's outage -- and RIM's multiple service disruptions in past years -- might push him away from BlackBerry.
"These systems are extremely complicated," said the man, who identified himself only as an independent developer. "Things happen. People act like no one else besides BlackBerry has ever had a problem, ever. It's incredibly annoying."
A manager of a "large international company" based overseas said his optimism was dented by the outage, but he's not giving up on BlackBerry.
"We have an entire company that is depending on their devices to work," he said. "It is concerning, but I am still hoping for the best in the future. And BlackBerry probably is, too."