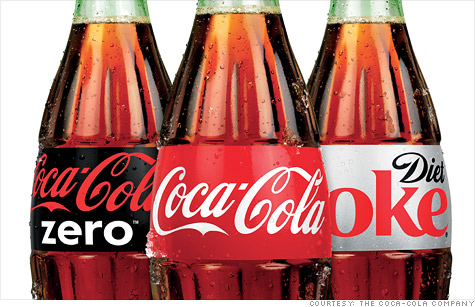 (MONEY Magazine) -- Shares of the world's biggest beverage company -- and most powerful brand --didn't go flat as the rest of the market did when this economic recovery fizzled.
They've returned 4.0% this year through Oct. 17, vs. the 2.9% loss for the S&P 500, partly on the strength of Coke's overseas profits. That ascent, though, means that this classic defensive stock now sells at a hefty premium to the market.
And you have to wonder whether Coke's foreign profits can rise fast enough to justify the stock's steep price.
What Slowdown?
In good times or bad, each of the planet's nearly 7 billion people downs about seven nonalcoholic drinks every day. Coke (KO, Fortune 500) is already the biggest provider of those servings, as its sodas, juices, and specialty drinks fill up 1.7 billion cups daily. Bullish investors point out that sales are growing fastest in the emerging markets.
Revenue in Asia, Latin America, and the Pacific have all soared by double digits in the first half of 2011. And Coke plans to invest $4 billion in new plants in China by 2014. Foreign opportunities are why George Fraise has made Coke a top holding in his John Hancock U.S. Global Leaders Growth: "Coke has the best distribution network in the world," he says.
U.S. Sales Sour
Thanks to health and economic concerns, Americans have begun to kick the cola habit. Though fizzy drinks are still on the rise globally, U.S. carbonated-soda sales have fallen 8% since their peak in 2006.
The fear is that foreign markets may eventually follow the U.S. lead. Mexico, long one of Coke's best markets, has started to discourage the sales of sodas in schools. And France has proposed a new tax on sugary drinks.
As an alternative, Coke has bought or started dozens of healthier lines, such as Minute Maid juices and Dasani water. Many of those products, though, have lower profit margins, says Gary Hemphill, senior vice president of Beverage Marketing Corp.
No Longer a Bargain
Coke cemented its reputation as a defensive stock in the financial crisis when its shares lost less than the S&P 500.
And since 2008 the stock has risen nearly twice as much as the broad market -- even returning 6% during the summer slide, while rival Pepsi lost nearly 11%.
But at a price/earnings ratio of nearly 17, based on next year's estimated earnings, the stock is no longer cheap, says S&P analyst Esther Kwon. True, Coke has historically traded at a 5% premium to Pepsi and a 20% premium to the market. Now, after a spectacular run, Coke's P/E is 33% richer than the S&P's and 28% higher than Pepsi's, which puts a lot of pressure on this stock.
Notes: Rest of the world represents Coke's African, Central Asian, Latin American, and Pacific regions. Operating earnings and revenue are from the first half of 2011.
Sources: Coca-Cola, Beverage Digest, and Morningstar.
Correction: In "X-Ray: Coca-Cola" [MONEY's November issue], Tropicana was mistakenly cited as a Coke brand. Coke owns Minute Maid. The story also said the company serves 1.5 billion cups of non-alcoholic drinks globally every day. The correct figure is 1.7 billion. The magazine article also incorrectly stated that France has a new tax on sugary drinks. Currently, it is only a proposal.