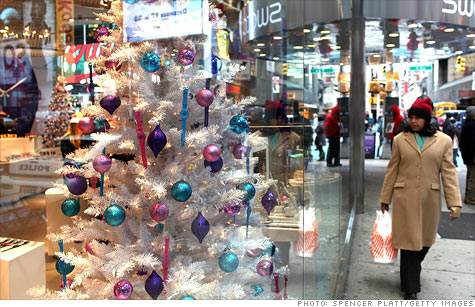 NEW YORK (CNNMoney) -- It may not be in line with the spirit of Christmas, but consumers say they plan to spend less on gifts for others and more on themselves while doing their holiday shopping this year.
Holiday shoppers say they plan to spend an average of $704.18 on gifts and other seasonal items this year, down slightly from last year's $718.98, according to the National Retail Federation's 2011 Holiday Consumer Intentions and Actions survey, which is conducted by BIGresearch.
Most of that money will go toward gifts for family, with the average person expected to shell out $403.26 on presents for kids, parents and other loved ones.
Many shoppers, however, also plan to put themselves near the top of their Christmas lists. About 60% of those surveyed said they plan to take advantage of seasonal sales and discounts to make purchases for themselves during the holidays.
The average person plans to spend approximately $130.43 on non-gift purchases for themselves or a family member, up from $112.20 in 2010, the NRF said.
"In 2009 it was all about personal and practical and last year consumers wanted to treat their loved ones to something special - this year, it's a little bit of both," said Pam Goodfellow, consumer insights director, of BIGresearch.
Overall holiday retail sales are expected to rise 2.8% to $465.6 billion, according to the NRF.
Not surprisingly, 62.2% of Americans said the economy will impact their holiday spending plans and most people said sales or price discounts were the most important factors when making purchases this year.
To that end, more shoppers are planning to comparison shop online or use their mobile devices to find the best prices this year, the NRF said.
More than half of those consumers with smart phones said they expect to use apps to look for gifts, redeem coupons and buy holiday gifts and other items. About 70% of tablet owners said they plan to do the same.
Nearly half, or 46.7%, of shoppers said they plan to make their gift purchases online, up from 43.9% last year. But that doesn't mean they will spend less money this season. In fact, online shoppers plan to spend about 22% more than those consumers who expect to do all of their holiday shopping in stores.
Nearly 40% of consumers have started their holiday shopping already and another 40% said they will begin shopping in November -- the rest plan to wait until the last minute.