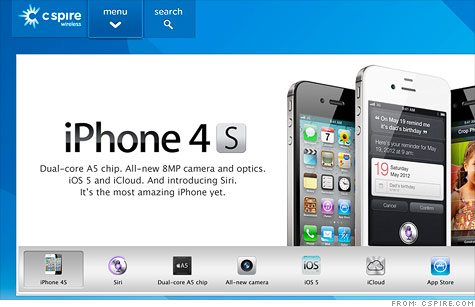 NEW YORK (CNNMoney) -- C Spire, a wireless carrier you've probably never heard of, announced Wednesday that it will become the fourth U.S. wireless provider to sell the iPhone 4S.
The regional carrier formerly known as Cellular South serves just under 900,000 customers, mostly in Mississippi. By contrast, Sprint (S, Fortune 500), previously the smallest carrier to sell the iPhone, serves 52 million customers.
It's a departure for Apple (AAPL, Fortune 500), which entered into a nearly four-year iPhone exclusivity agreement with AT&T (T, Fortune 500). That ended earlier this year when Verizon, the country's largest wireless network, finally snagged the coveted phone. Sprint, the nation's No. 3, joined the ranks this month.
Apple has typically required iPhone carriers to buy its phones in bulk, demanding the kind of volume only the biggest carriers can provide. So why is the iPhone finally making the leap to a regional carrier, just weeks after Sprint got it first crack at the gadget?
One possible reason for the course change is that Google (GOOG, Fortune 500), which licenses its Android operating system for free, has made significant headway in the smaller markets. Its open-source strategy has allowed handset manufacturers to make and sell cheap smartphones via regional carriers across the world.
In the United States, low-cost carriers like Leap Wireless' (LEAP) Cricket, MetroPCS (PCS), Sprint's Boost Wireless and Virgin Mobile all sell Android smartphones. Regional carriers including U.S. Cellular (USM), C Spire and Cincinnati Bell Wireless also carry Android devices.
Some analysts speculated that Apple wants a piece of that pie as well.
"If Apple can get the iPhone into rural areas, that's a plus for them," said Tole Hart, analyst at Yankee Group. "It would add to their customer base, but it would also be a good story to be in rural areas, showing how iPhones can help people save lives, and so on."
This kind of arrangement would have been impossible a year ago, but Apple made several changes to facilitate it: It ended its exclusivity deal with AT&T, and it developed an iPhone that works on the CDMA network standard favored by most U.S. carriers, including C Spire. The first CDMA phone became available on the Verizon (VZ, Fortune 500) network in February.
The C Spire deal opens up the possibility that other small carriers could start selling the iPhone as well.
Previously, analysts believed that the cost of selling the iPhone would be too high for smaller carriers to bear. Even with Sprint, some analysts were initially skeptical that the No. 3 mobile provider could meet Apple's sales targets. Yet Sprint reported that its first weekend of iPhone sales was its best weekend ever.
"I think it helps bring people into stores, and gives carriers cache," Hart said. "These companies are good at judging costs of their business. It makes sense."
Others think it will be easy for C Spire to make money on the deal.
"Why not? All C Spire has to do is buy a bunch and sell them; it's a piece of cake," said Ken Dulaney, analyst at Gartner. "Look at Sprint, which is doing really well. It certainly will make their customers happy."
But working with smaller carriers is clearly new territory for Apple -- and vice versa. The Apple/C Spire relationship got off to a tight-lipped start.
C Spire issued the world's tersest, one-line statement about its blockbuster deal, saying only that it will launch the iPhone 4S "in the U.S. in the coming weeks." The company didn't comment on pricing or when the devices will actually be available.
A company spokesman told CNNMoney that the company would be happy to talk at that later date. Apple also declined to comment.
"They do not want to step on Apple's toes -- no one wants to rustle Apple's feathers," said Jeff Kagan, an independent telecom analyst based in Atlanta. "This is very interesting to watch."
It will also be interesting to see whether AT&T can capitalize on this development pursuing its planned purchase of T-Mobile. One reason the Department of Justice says it filed an antitrust claim aiming to block the proposed merger is that major handset manufacturers tend to stay away from smaller carriers.
The DOJ argued that it makes better economic sense for phone makers to sell to one or two large carriers, since that alone would give them access to the vast majority of the nation's mobile subscribers.
Now that the most sought-after device is available on such a tiny carrier, that argument is up for debate.