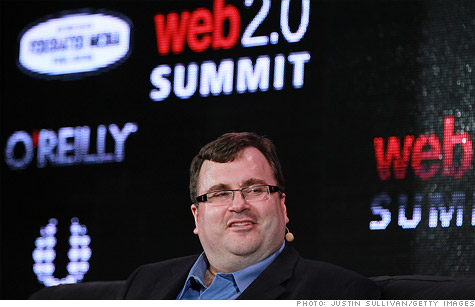 "Not everything is social," says Reid Hoffman, the creator of the leading professional networking site LinkedIn.
SAN FRANCISCO (CNNMoney) -- Professional networking site LinkedIn has stayed "incredibly steady to its original vision," says co-founder Reid Hoffman, by focusing on its specific niche -- and Facebook isn't a competitor to that strategy.
Hoffman seemed keen to focus on the power of data during his talk at the Web 2.0 Summit in San Francisco on Wednesday, but conference moderator John Battelle coaxed him into talking about whether LinkedIn considers Facebook a rival.
"I want to ask you to pretend we're not in front of hundreds of people and pretend we're at an intimate dinner party," Battelle started, prompting laughter from the audience. "And I say to you, 'Reid, what's your real opinion of Facebook?'"
"Has anyone ever responded to these hypotheticals?" Hoffman replied, laughing.
"Well, I remember when [Mark] Zuckerberg was saying every vertical is going to be socialized, even your work profile," Battelle said. "But LinkedIn has obviously grown in its way. Do you feel that Facebook is a competitor to LinkedIn?
"No," Hoffman said. "Facebook is obviously an amazing product that's gotten big. But I'm not sure everything is social."
Hoffman said he's acutely aware that people have "different aspects" to their lives -- a persona at work, one with friends, and so on.
He later elaborated on the theme, saying that "LinkedIn has remained incredibly steady to its original vision" both in terms of focus on professional networking and its business model.
"My general view is [Facebook is] great, it's amazing, but I think we'll see many things that are important to bring the people coefficient in," Hoffman said. "Some of that will be LinkedIn, some of that will be Facebook, some of that will be Twitter."
What exactly "the people coefficient" will look like as it evolves is an open question, Hoffman said.
"None of us know right now. And that's why I love being an investor," he said, referring to his status as a partner at venture capital firm Greylock Partners. Hoffman joined the firm in 2009.
Battelle then asked about another area of uncertainty: the IPO market for startups. The Web 2.0 conference included several grumblings about the slow and often rocky process of going public. But Hoffman took a rosier view -- not surprising considering that LinkedIn (LNKD) went public in May.
"I think that long-term-focused companies can get out," Hoffman said. "I mean, it is a painful process. You go through a lot of turbulence."
The public market for tech companies "is relevant for someone to think about," he added, "but I don't spend too much time thinking about that because it is what it is."
He closed his thoughts on the topic with a sentiment often echoed by others in the tech field: "I'd like an nation decided by engineers, not a nation decided by lawmakers."