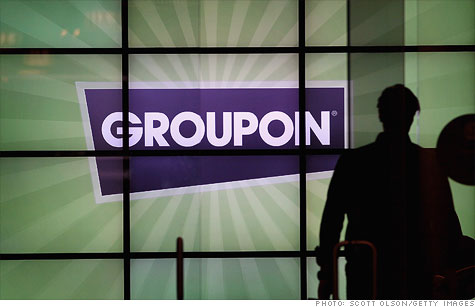 NEW YORK (CNNMoney) -- Groupon is setting its sights lower, reducing how much it hopes to raise in its initial public offering by 28% to $540 million, the daily deals site announced early Friday in a regulatory filing.
The company is putting 30 million shares up for sale, hoping they'll receive between $16 and $18 a piece, according to a filing with the Securities and Exchange Commission.
Originally, Groupon had hoped to raise $750 million, according to documents filed in June.
But in the four months since then, stocks have fallen, and Groupon has found itself embroiled in controversy surrounding an unorthodox accounting practice it used to calculate its earnings in the previous filing.
Groupon later amended that filing in August. Another amendment, filed in September, changed the way Groupon accounts for its sales. The change cut Groupon's reported revenue in half, reducing it to $688 million in the first half of 2011.
If the IPO prices at $18 a share, the company would be worth $11.4 billion. Groupon brought in $1.3 billion in revenue in the trailing 12 months ended Sept. 30, but overall posted net losses of $574 million for that period.
While Groupon's IPO is one of the most highly anticipated this year, the company has never turned a profit. But losses haven't swayed investors from scooping up shares of other tech startups, including Pandora (P), Fusion-io (FIO) and LinkedIn (LNKD), earlier this year.
Now that Groupon has set its price range, it is likely its shares will start trading in the next few weeks. The company plans to trade on the Nasdaq exchange under the ticker symbol GRPN.