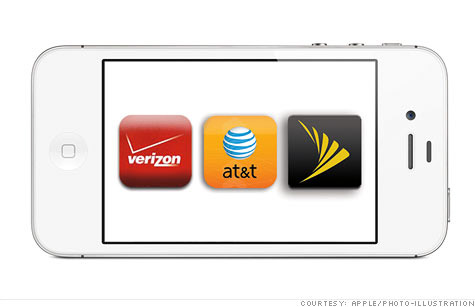 NEW YORK (CNNMoney) -- AT&T remains the most popular iPhone carrier in the United States, but Verizon is catching up.
Verizon Wireless said Friday that it sold 2 million iPhones in the quarter ended Sept. 30, compared with the 2.7 million AT&T sold in the same three-month stretch. That's a narrower gap than the two rivals had last quarter, when AT&T outsold Verizon by 1.3 million iPhones.
Verizon (VZ, Fortune 500) remains the nation's biggest wireless carrier: The company finished the quarter with 107.7 million connections, up 7% compared to last year. AT&T has just over 100 million connected devices on its network.
The customers both companies covet most are smartphone subscribers with long-term contracts, who typically hold the most lucrative accounts. Verizon said it sold 5.6 million smartphones in its last quarter. More than half of them were Android devices running Google's (GOOG, Fortune 500) mobile operating system.
Verizon is seeing "strong demand" for the iPhone 4S it began selling last week, Verizon CFO Fran Shammo told analysts in a conference call Friday morning. He did not offer any specific numbers on how many Verizon has sold so far.
AT&T (T, Fortune 500) said on Thursday that it sold 1 million new iPhones in the first few days after the 4S launch. Sprint (S, Fortune 500), which began selling the iPhone for the first time last week, said the iPhone launch day was its best-ever sales say. Apple said it has already sold a record 4 million iPhone 4S smartphones.
But the national carriers will soon have more competition for those iPhone buyers: Apple (AAPL, Fortune 500) appears to be loosening its grip in its prized gizmo. C Spire, a tiny regional carrier that serves less than 1 million customers, announced this week that it will soon begin selling the iPhone.
Meanwhile, Verizon is working to expand its range of exclusive, high-end phones. The company said it sold 700,000 4G LTE smartphones last quarter, capitalizing on its head-start in the field. AT&T won't release its first 4G LTE smartphones until later this quarter.
Verizon is also the exclusive U.S. carrier for Motrorola Mobility's (MMI) Droid RAZR, a much-buzzed-about revival of the RAZR line that was the best selling phone of all time until the iPhone came along. The Droid RAZR, which will arrive in stores next month, will be a 4G LTE phone and one of the thinnest smartphones on the market.