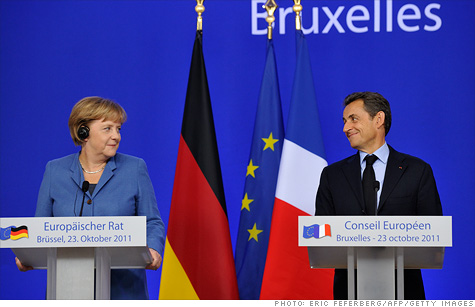 During a joint press conference with German Chancellor Angela Merkel, French President Nicolas Sarkozy said that 'broad agreement' was reached to ramp up the firepower of the eurozone rescue fund.
NEW YORK (CNNMoney) -- Europe's top leaders said Sunday that they were getting closer to finalizing a plan to solve Europe's debt crisis.
But with a final agreement not expected before Wednesday, the actual details remained under wraps.
"The technical complexities are significant," said French President Nicolas Sarkozy, adding that there are large amounts of money involved.
The European Council, comprising government heads from all 27 members of the European Union, met Sunday in Brussels to hammer out a plan to boost capital levels for banks, enhance a government-backed rescue fund and provide debt relief for Greece.
Speaking alongside German Chancellor Angela Merkel, Sarkozy said in a midday press conference that the leaders had made progress on the "ambitious" and "durable" response to the long-running crisis.
"We would not be meeting on Wednesday if we were not really trying this time," Swedish Prime Minister Fredrik Reinfeldt told CNN.
Meanwhile, Merkel noted that EU finance ministers had made progress over the weekend on a solution for capital-starved banks. In principle, the finance ministers have agreed to funnel about €100 billion into banks to boost capital levels.
But Merkel added that strengthening banks without resolving the debt crisis in Greece and supporting other nations with unsustainable debts will not work.
Echoing past statements, Sarkozy and Merkel said banks should first raise money from the private sector before seeking state aid or money from the EU bailout fund.
"These issues must all be resolved," Merkel said. "It's a painful process."
Sarkozy stressed that the leaders are fully aware of their responsibilities, saying they have a "moral, political and economical obligation" to act decisively.
The leaders are also working on how best to leverage the European Financial Stability Facility. The €440 billion fund, which was recently granted the power to intervene in sovereign debt markets and provide loans for governments that need to recapitalize banks, is widely seen as needing additional firepower.
"It's important to boost the emergency fund to protect the euro," said Merkel.
But many EU governments have ruled out backing the fund up with additional loan guarantees.
European Parliament president Jerzy Buzek told CNN that it was possible other countries from outside the eurozone would be asked to contribute to the bailout fund.
"I am sure the solution for the eurozone will be spread among all 27 EU nations because we need the democratic scrutiny," he said.
That could prove controversial among the 10 EU nations that do not use the euro, including Britain, because it would most likely involve changes to various treaties.
And British prime minister David Cameron pointed out in a press conference that any treaty changes would require the approval of all 27 member states.
Another key sticking point involves the role the private sector will play in a restructuring of Greek government debt.
Under an agreement reached in July, the private sector had agreed to write down the value of Greek government bonds by 21%.
But given the lack of progress Greece has made on deficit reduction and the nation's worsening recession, many economists say writedowns of 50% will be necessary.