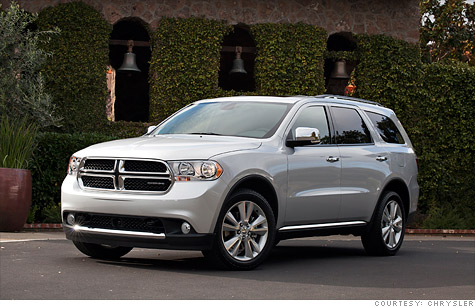 Chrysler Group, which makes Chrysler, Dodge and Jeep vehicles and which has lagged competitors in quality for years, enjoyed a rise in the rankings. The Dodge Durango was rated as the most reliable large SUV.
NEW YORK (CNNMoney) -- Ford Motor Co., long the standard bearer for quality among Detroit automakers, slipped in Consumer Reports' most recent quality survey, apparently undone by a string of challenging new vehicle launches and the introduction of increasingly complex new technologies.
"When you look at Ford, being the darlings for reliable cars, they've dropped 10 places," said David Champion, head of auto testing for Consumer Reports magazine.
In recent years Ford had earned a place among the most reliable automakers, but recent introductions and new technologies have caused problems.
Ford (F, Fortune 500) has released a complex new stereo interface for its cars called MyFord Touch. The system has suffered from a number of problems, including computer crashes, said Champion, especially in cold weather.
It has also launched a number of new and redesigned models, including the Explorer, Fiesta and the Focus. The Focus and Fiesta, in particular, have had problems with their transmissions, Champion said.
When carmakers launch completely new cars or ones that have been substantially re-engineered, as Ford has, it often leads to temporary drops in quality, Champion said.
Ford will likely recover from this stumble, said Champion, as it upgrades computer software and figures out the causes of quality glitches.
"Our internal surveys now show that we are largely back on track after addressing these near-term quality issue," Bennie Fowler, Ford's vice president for quality, said in a statement.
Toyota's Lexus CT 200h hybrid was the most reliable vehicle of all, Consumer Reports said. On average, Asian automakers continue to make the most reliable cars, the magazine said.
Chrysler makes gains: Chrysler Group, which makes Chrysler, Dodge and Jeep vehicles and which has lagged competitors in quality for years, enjoyed a rise in the rankings, largely on the base of the dependability of the 200 sedan, an improved version of what had been the Chrysler Sebring. The Town & Country minivan and the new Jeep Grand Cherokee and Dodge Durango SUVs also helped Chryler rise in the rankings.
Jeep was the top-ranked domestic brand in the survey, rising seven places to 13th.
Chrysler's gains in dependability come along with similar gains in overall quality, Champion said.
"You can see even in the build-quality of the car's we test, there's a greater attention to detail and better quality," he said.
Doug Betts, head of quality at Chrysler Group, said he expects Chrysler to, one day, rank at the top for product reliability.
"We're doing the things that you do when you end up at the top spot," he said. "It doesn't seem unlikely now."
Betts has been working for several years to instill a more disciplined approach to quality at Chrysler.
The magazine and its website, ConsumerReports.org, base the reliability rankings on a survey of 1.3 million subscribers.
General Motors, overall, continued to have mixed results in terms of dependability, the magazine said. Some of its cars, like the Chevrolet Volt plug-in hybrid -- a notable exception to the rule about troubled new models -- and the Cadillac CTS did quite well in the most recent survey. But many other GM models fell below average.
It's not uncommon for GM cars to perform well in the survey one year and poorly the next, Champion said.
Asian automakers, the most reliable: The top nine brands, according to Consumer Reports -- led by Toyota Motor Co. (TM)'s Scion and Lexus brands -- were all based in Asia.
Of 91 Japanese-brand cars included in the final results, a total of 87 rated at least average in dependability. The overall results for American cars were not nearly as good. Of the 97 American cars and trucks included in the final rankings (meaning the magazine had enough survey data on each model to rank it) only 62 were rated as at least average in dependability.
Every Toyota model but one, the all-wheel-drive Sienna minivan, had average or better reliability, according to the survey.
Japan's Honda (HMC) also had just one below-average vehicle, the magazine said, the recently redesigned Odyssey minivan. Consumer Reports had recently criticized Honda for what the magazine's auto testers saw as a decline in the quality of the automaker's new models, especially the new Civic.
Overall, the latest crop of cars, trucks and SUVs are of much higher quality than they were a decade or so ago, said Champion, although improvements have begun to taper off in the last five years.
Still, given the increasing complexity of cars, including new technologies and complex safety computer-based safety systems, just holding the line on technical glitches is impressive in itself, he said.