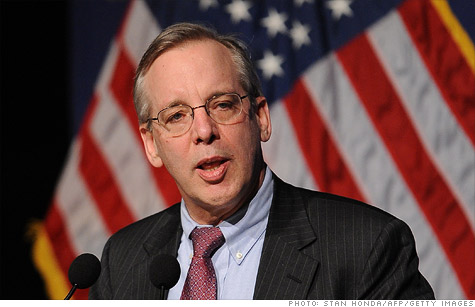 Speaking at Fordham University Monday, New York Fed President William Dudley called on lawmakers to support the troubled housing market.
NEW YORK (CNNMoney) -- A top Federal Reserve official is pushing for an "urgent effort" to prop up the housing market, and support the overall U.S. economy.
Speaking at Fordham University Monday, New York Fed President William Dudley called for policymakers to make it easier for homeowners to refinance at lower mortgage rates and prop up home prices.
"If prospective homeowners no longer fear that prices could decline further they will be more willing to enter the market to take advantage of reduced prices and lower financing costs, and existing homeowners will feel more confident about increasing their spending," he said. "A vicious cycle could be replaced by a virtuous one, in which stabilization in house prices supports spending, growth and jobs."
Dudley described the problems in the housing sector as one of the greatest challenges still facing U.S. economic growth. Amid lower home prices, homeowners are spending less, he said. Meanwhile, tough credit standards and the large supply of foreclosed homes (which threaten a further decline in prices) are discouraging would-be buyers from entering the market.

On Monday, the government unveiled a plan to help struggling homeowners. The new rules will allow homeowners who owe more than 125% of the market value of their homes to get new loans.
Dudley's comments are the latest in a campaign by several of his Fed colleagues, pushing for more economic aid from the Fed.

Last Thursday, Fed Governor Daniel Tarullo outright called for the Fed to purchase more mortgage-backed securities as a way to bring mortgage rates even lower and prop up the housing market.
And on Friday, Janet Yellen, second in command to Fed chairman Ben Bernanke, said another round of asset purchases could be necessary to boost U.S. economic growth.
Since the recession, the Fed has launched two rounds of asset purchases known as quantitative easing and QE2. Most recently, the Fed initiated a program called Operation Twist, which shifts its balance sheet from short-term to longer-term bonds in an effort to lower long-term interest rates.
On Monday, Dudley did not advocate for another such program, but he did say it could be a possibility.

"Depending on how the world evolves, we could potentially do more in that direction" he said.

He reiterated strong calls from the Fed, for lawmakers in Washington to quickly find a solution to the country's long-term debt problems.

"Our nation needs to get its public finances in order," he said, noting that states and local governments are likely to continue cutting jobs and spending as federal aid to states peters out. He also urged lawmakers to avoid making excessive short-term cuts or increasing taxes, both of which he said could harm the recovery.