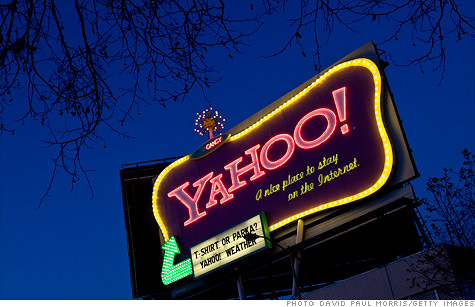 NEW YORK (CNNMoney) -- These are seriously ugly times for Yahoo, yet the struggling Internet company is getting courted like the prettiest girl in school.
Google (GOOG, Fortune 500) and Microsoft (MSFT, Fortune 500) are separately scrambling to finance a deal to buy the company, according to several news reports. Neither would actually buy Yahoo (YHOO, Fortune 500) outright, but the companies are looking to throw in a billion or two to help private equity groups buy the Internet conglomerate.
But what would two tech titans want with a has-been portal, which gave up on search, is losing its former stranglehold on the display advertising market, and just fired its CEO?
"This bidding can seem like high-stakes poker, but I see it more like bridge," said Carl Howe, analyst at Yankee Group. "Sometimes bridge players get higher scores by setting [defeating] their opponents than by winning the contract."
Yahoo isn't a great strategic fit for Google, but the search giant certainly wants to keep Yahoo out of Microsoft's hands. Microsoft recently extended a lucrative revenue-sharing contract with Yahoo, in which it gets to power Yahoo's search engine with Microsoft Bing. By taking over Yahoo's slice, Microsoft more than doubled its control of the search market.
The partnership puts Bing at right around a 30% share of the U.S. search market, according to comScore, which is the magic number at which online advertisers start to notice you. Anything to disrupt that partnership would be a clear win for Google.
At the same time, buying Yahoo doesn't make a whole lot of sense for Microsoft either. But Microsoft's online services division is losing upwards of a billion dollars per quarter, and Bing is hanging on in the search game by a thread.
"Microsoft cannot afford to allow Yahoo to fall into Google's hands; this outcome could potentially be the 'kiss of death' for Bing," said Joel Achramowicz, analyst at Blaylock Robert Van.
Like Google, Microsoft may see a purchase of Yahoo as a cheaper solution than losing the company to its rival.
But if this is a high-stakes card game, neither Google nor Microsoft have a particularly great hand.
Microsoft offered to buy Yahoo for more than $47 billion in 2008 and was turned down. Yahoo's market value is currently $21 billion.
"Sometimes, you're lucky," Microsoft CEO Steve Ballmer said of the failed Yahoo bid at the Web 2.0 conference in San Francisco last week. Not exactly a ringing endorsement for a potential future asset.
After Microsoft's bid fell through, Google swooped in with a revenue-sharing proposal under which Google would sell search ads on Yahoo's search results page. That is, until the U.S. Department of Justice threatened to file an antitrust suit against the deal. That scotched Google's plans.
Any Google bid for Yahoo -- whether direct or indirect -- would undoubtedly draw intense antitrust scrutiny, analysts say.
"Not much has changed in the last few years since the DOJ said it would be anticompetitive for Google to get into business with Yahoo," said Ronald Gruia, principal consultant at Frost & Sullivan. "Buying Yahoo is just a remote possibility for Google."
Forget poker or bridge -- this might really be a giant game of chicken.
"While neither really wants Yahoo, the company, that much, neither wants the other to have the advertising revenue the firm represents," said Rob Enderle, an independent technology consultant. "Yahoo is kind of a mess, however, and I doubt either firm really wants to resource fixing it, so this is more a 'deny strategy' on both parts than an 'acquire strategy.'"
Yahoo isn't a complete disaster. It's one of the most-visited Internet sites in the world, and its research and development team remains one of the best among Internet content companies, some analysts said.
That could prove useful to a company like Google or Microsoft, both of which are beginning to provide multimedia content to users. Microsoft will be expanding its Xbox Live network this fall to offer innovative ways to search for television shows and movies. Google began renting movies to users through YouTube, and it is reportedly going to begin to sell music through its Music Beta service.
"It's not just about the content," said Sue Feldman, analyst at IDC. "The synergy between content and technology, if well designed, will out-perform the sum of the parts. Think iTunes."
It's unlikely that Microsoft or Google could work a Yahoo purchase into an iTunes-like success, but both could get some strategic gain from Yahoo: Google could expand its Google+ base and grow its advertising pool. Microsoft could leverage Yahoo to bring Bing into the black.
In the end, analysts agree that Microsoft faces the biggest threat if Yahoo is purchased by a competitor like Google or Chinese e-commerce giant Alibaba. Despite all of Yahoo's problems, it may be a pill that Microsoft just has to swallow.
"Why has Microsoft been so capricious about its interest in the Yahoo property when all of us recognize its major strategic importance to the Redmond software behemoth's long-term future?" asked Blaylock Robert Van's Achramowicz. "What's more important to Microsoft at this juncture? Skype or Yahoo? I would say categorically: Yahoo."