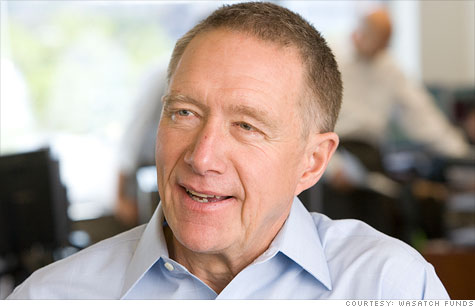 (MONEY Magazine) -- Sam Stewart made his name as a savvy small-company stock investor, and the firm he founded, Wasatch Advisors, shares this reputation.
Stewart's Wasatch World Innovators Fund (WAGTX), though, is more of an eclectic portfolio with holdings ranging from shares of tiny businesses to giant companies. The common theme?
"They are all gaining share because they are doing something better, faster, or cheaper than their competitors," Stewart says. He spoke with MONEY contributing writer Laura Lallos.
When you think of innovation, nimble startups come to mind. Yet you own some big stocks like Apple and Google.
Usually, companies that bring a new idea to market start small and grow large, and we like to be onboard for a good portion of the ride. We own more large stocks now than is likely to be the case over the upcoming decade.
That's because of valuations. The market has been looking to small stocks in recent years, so their valuations are high relative to large stocks. Take Apple (AAPL, Fortune 500), which despite its domination sells at just 11.7 times next year's estimated earnings.
Won't sluggish consumer spending hurt sales of Apple's high-end devices?
The U.S. consumer may be strapped, but Apple is rapidly gaining new users. Thirteen percent of Apple's sales already come from Greater China.
Apple has the iPad and the rumored Apple television. What does Google have?
Google (GOOG, Fortune 500) gets no revenue from the Android operating system, but Android phones are a way to generate ad revenue from mobile devices. The market for online advertising is still growing in the double digits.
It is almost incomprehensible to me that a company with such a market position can be trading so cheaply, at 12.6 times next year's estimated earnings.
What about trends outside of tech?
There's a global shift from cash to plastic -- 85% of transactions are still conducted in cash, but the rest of the world wants the ability to not carry around money. There is nothing likely to disturb this trend, and few other firms have the kind of name recognition in far-flung corners of the world that MasterCard (MA, Fortune 500) and Visa (V, Fortune 500) enjoy.
You also own Herbalife. What's so innovative about a multilevel marketer?
People are skeptical of traditional multilevel marketing because it is not focused on increasing product sales; instead, distributors recruit more sellers and take a cut. But Herbalife (HLF), which sells weight-loss supplements, has seen a change, starting in Mexico.
There, distributors shifted to a "club" model, selling one shake at a time with customers coming in every day to receive support similar to that provided by Weight Watchers. The business has taken off in Mexico and Taiwan. They are also in the U.S. and China and markets around the globe with a lot of room to grow.