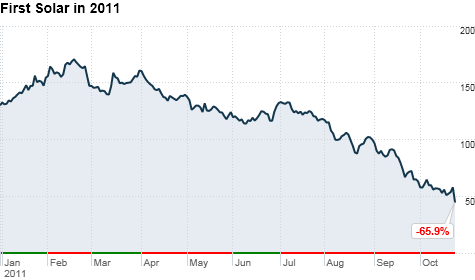 Click the chart for more on First Solar's stock.
NEW YORK (CNNMoney) -- Robert Gillette has stepped down as CEO of renewable energy firm First Solar, the company announced Tuesday, as its shares continued a tumble that has shaved more than 70% of their value over the past year.
First Solar (FSLR)'s stock plunged on the news, dropping over 25% to close at $43.27.
The First Solar board did not offer an explanation for Gillette's departure, saying only that it "thanks him for his service to the company." First Solar chairman and founder Mike Ahearn will serve as interim CEO while the company searches for a permanent replacement.
Mark Bachman, a senior research analyst with Avian Securities LLC, called Gillette's departure "completely unexpected."
"I think investors found it unexpected too, which is why the stock is down 25% today," he said.
First Solar manufactures solar modules, and went public in 2006. Its current market capitalization is around $4 billion.
Bachman said the broader solar market "is facing difficult times right now", as new competition from Chinese producers has led to an oversupply of solar modules.

"The general weakness and then this CEO departure is going to weigh heavily on the stock," Bachman said.
In February, First Solar was ranked on Fortune's list of America's fastest growing companies. Its share price has since dropped sharply, however, weighed down by the competition from China as well as the Solyndra scandal.
Solyndra is a California solar panel manufacturer that had received $535 million in federal loan guarantees before it was forced to halt operations and file for bankruptcy at the end of August, putting more than 1,000 workers out of work.
In June, the Department of Energy announced the conditional approval of three similar loan guarantees for First Solar totaling $4.5 billion. Last month, however, the company announced that it would not meet the September 30 deadline for processing the largest of these guarantees, worth $1.9 billion.
Weston Twigg, a senior research analyst at Pacific Crest Securities, said First Solar had long been an industry leader, but as with the rest of the sector, is suffering from "very severe pricing pressure right now."
"The Chinese manufacturers are closing the gap, but demand is not increasing the way many people had hoped," he said. Government subsidies, he added, "are in many cases declining or staying flat."
Gillette is the third high-level executive to leave First Solar this year, following operations president Bruce Sohn in April and former chief financial officer Jens Meyerhoff in September, Twigg noted.
"It's hard to view it as anything other than a negative for the company," he said.