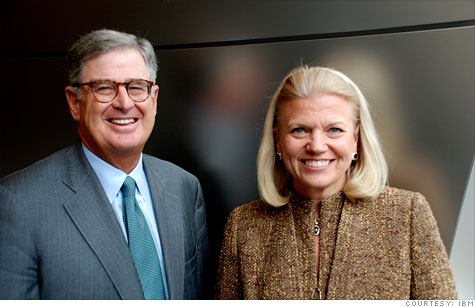 Sam Palmisano (left) will be replaced as IBM's CEO by Ginni Rometty on Jan 1, 2012.
NEW YORK (CNNMoney) -- Sam Palmisano will step down as IBM's CEO at the end of the year and will be replaced by longtime company executive Ginni Rometty.
Palmisano's tenure was an extremely successful one: After taking the tech giant's reins from Lou Gerstner in 2002, Palmisano transformed the company from a systems and services firm into a supercomputing and analytics mega-machine.
The makeover paid off. Shares have soared 73% during Palmisano's tenure and IBM's revenues have more than quadrupled in his nearly 10 years at the helm.
Palmisano will remain as chairman of the board when Rometty takes over as CEO on Jan 1, 2012. Rometty currently serves as IBM's senior vice president for sales, marketing and strategy, overseeing IBM's Global Business Services unit.
Rometty "is more than a superb operational executive," Palmisano said of his soon-to-be replacement in a prepared statement. "She brings to the role of CEO a unique combination of vision, client focus, unrelenting drive, and passion for IBMers and the company's future. Ginni is the ideal CEO to lead IBM into its second century."
Rometty, who has been an IBMer for 30 years, has been credited with spearheading IBM's growth strategy by getting the company into the cloud computing and analytics businesses. She has also been at the helm of readying Watson, the Jeopardy! playing computer, for commercial use.
"There is no greater privilege in business than to be asked to lead IBM, especially at this moment," Rometty said in a written statement. "Sam had the courage to transform the company based on his belief that computing technology, our industry, even world economies would shift in historic ways. All of that has come to pass."
But for those who think Rometty will maintain the status quo at IBM, she noted that isn't in the company's blood.
"Sam taught us, above all, that we must never stop reinventing IBM," Rometty added.
Rometty ascension next year will mark another milestone: The nation's two largest technology firms will be run by women. Meg Whitman took over as Hewlett-Packard's (HPQ, Fortune 500) CEO last month, giving her oversight of a business with annual sales that topped $126 billion last year. IBM has annual sales of around $100 billion.
Shares of IBM (IBM, Fortune 500) fell 1% in afterhours trading.