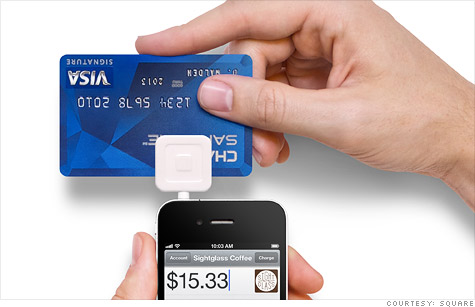 NEW YORK (CNNMoney) -- After landing a massive cash infusion in June, mobile payments venture Square is taking a big step into the mainstream: Its mobile credit-card processing system is now on sale at Wal-Mart.
Square's card reader, aimed at small business owners and on-the-go merchants, is a smartphone add-on. It attaches to iPhone, iPad, and Android devices, and allows the owner to accept a credit card payment in return for a 2.75% transactional fee.
The aim is to bring down the barriers smaller business owners typically face when they want to accept credit card payments. Wal-Mart (WMT, Fortune 500) isn't the first large retailer to sell the devices -- they can now be found at Target (TGT, Fortune 500), RadioShack (RSH, Fortune 500), Best Buy (BBY, Fortune 500), and Apple (AAPL, Fortune 500) stores around the country -- but its massive retail footprint will help dramatically expand Square's visibility.
Square's system is now for sale in 9,000 retail locations nationwide, up from around 200 locations this summer, according to a Square spokesman.
The credit card reader comes with a $9.99 price tag, but customers can get the money credited back to their account by signing up on Square's website. The company says it has shipped 800,000 card readers to merchants and is now processing $2 billion in payments annually.
In June, the company, created by Twitter co-founder Jack Dorsey, announced a $100 million funding round led by by Kleiner Perkins Caufield & Byers. As the mobile payment industry heats up, the startup is looking to position itself as one of the leading players.
Also in the running are companies like eBay (EBAY, Fortune 500)'s PayPal and Google (GOOG, Fortune 500), which recently rolled out its "mobile wallet" technology. Wireless carriers and banking giants have also turned their attention toward mobile payments, along with a host of startups looking to break into the scene.