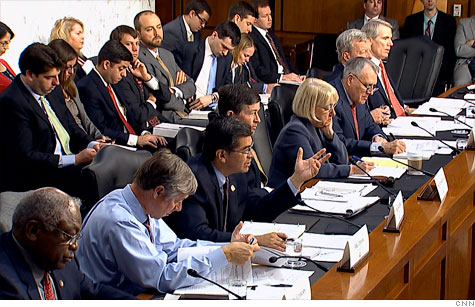 The congressional debt committee has less than a month left to propose at least $1.2 trillion in deficit reduction.
NEW YORK (CNNMoney) -- The automatic cuts looming over the congressional debt committee would take a big bite out of discretionary spending, a top government budget expert said Wednesday.
And those reductions would be felt across the economy -- potentially affecting infrastructure projects, higher education, basic research, and state and local governments, Congressional Budget Office Director Douglas Elmendorf explained to members of the so-called super committee.
That panel must propose at least $1.2 trillion in debt reduction over a decade. If it fails to do so, the budget law passed by Congress in August would require across-the-board cuts to certain parts of the federal budget.
As a result, by 2021, defense spending would be slashed to a level 16% lower than it would be if it simply kept pace with inflation, and nondefense discretionary spending would be 15% lower, Elmendorf said.
The focus of Elmendorf's testimony was discretionary spending, which constitutes less than half of the federal budget and is already subject to other spending curbs under the Budget Control Act passed this summer.
"Lawmakers have already taken significant steps to constrain discretionary spending," he said.
The prospect that discretionary spending would grow far below inflation understates how some programs would be affected.
For example, Elmendorf said, spending on veterans' health care and Pell grants for higher education has been growing faster than inflation.
And there would be ripple effects.
"Many programs -- especially in the areas of education and transportation -- involve financing from federal, state and local governments," he said. So federal reductions could force states to either scale back programs or put more of their own money into them.
Of course, the super committee has the power to control how spending cuts would be allocated -- and prevent the automatic cuts.
But many budget experts are pessimistic about the committee's chances of reaching a deal. (Video: Super committee under pressure)
The bipartisan 12-member panel needs at least seven votes to make a proposal to the rest of Congress. Democrats and Republicans have been sharply divided for months over whether to raise taxes and where to cut spending.
Elmendorf noted that the country's burgeoning debt can't be adequately addressed by focusing solely on discretionary spending.
"Discretionary spending is a shrinking share of federal outlays over time, and mandatory entitlement spending is a growing share," Elmendorf said.
Without addressing that entitlement spending, there's no way to adequately rein in future deficits, he noted.
The super committee, which first met publicly on Sept. 8, has met in public four times. It faces a Nov. 23 deadline to formally propose legislation that Congress would have to vote on -- without making any amendments -- by Dec. 23.