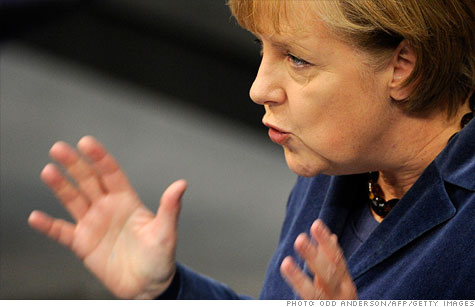 German Chancellor Angela Merkel made a plea for parliamentary support on beefing up the EU's bailout fund, hours before a make-or-break summit to tackle the euro's debt crisis.
NEW YORK (CNNMoney) -- As European Union leaders gather Wednesday for another crisis summit, German lawmakers backed a proposal to enhance the powers of Europe's rescue fund.
The development clears a hurdle for German Chancellor Angela Merkel as she and fellow EU government heads gather in Brussels to salvage a promised set of policies to address the debt and banking crisis in the eurozone.
"The world looks to Europe," Merkel said in a speech before the vote, which passed by a large majority in the Bundestag, the lower house of parliament. "If the euro fails, Europe will fail."
According to a draft of the motion, the €440 billion European Financial Stability Facility would be used to provide "partial hedging of new government bonds."
In addition, a new investment vehicle could be created to spread risks among public and private investors.
"The continued tight market situation makes it necessary to ensure the most efficient use of these funds to stabilize the euro-zone," the motion reads.
However, the deal also contains some caveats that could prove controversial.
According to the motion, "there is no need to carry on the secondary market program of the European Central Bank" once the expanded EFSF is up and running.
The ECB has been buying billions of euros worth of bonds issued by Italy and Spain, among others, to provide liquidity and ensure affordable borrowing costs for debt-burdened nations.
But the emergency bond-buying program has divided the ECB's management, with two influential German ECB officials resigning over the issue.
Still, the need to increase the EFSF's firepower is one of three key objectives EU leaders are hoping to achieve at Wednesday's summit.
The leaders must also negotiate a deal with private sector investors to write down the value of Greek government bonds by up to 60%. That will set the stage for a final decision on how much capital European banks will need to raise, estimated between €100 billion and €300 billion.
EU leaders made a "significant" new offer to private sector bondholders Tuesday, according to a spokesman for the Institute for International Finance, which represents the interests of bondholders.
The offer involves a "debt exchange on a voluntary basis in support of Greece," the spokesman said in a brief statement.