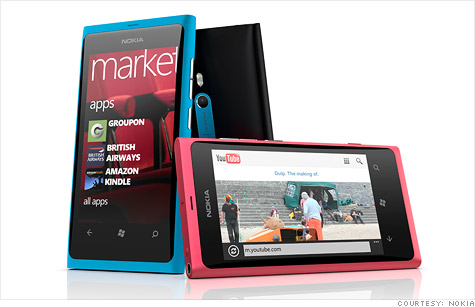 Nokia unveiled its first two Windows Phone smartphones: The Lumia 800 (above) and Lumia 710.
LONDON (CNN) -- How do you say "here goes nothing" in Finnish?
Nokia's (NOK) bet-the-company moment is now underway, as the Finnish mobile phone maker unveiled two new smartphones Wednesday that will run Microsoft's (MSFT, Fortune 500) Windows Phone operating system -- the first Nokia devices to run anything but the company's own software platform.
The struggling handset manufacturer is hoping the major strategy shift will boost its flagging fortunes in the booming smartphone market.
The two new devices, dubbed Lumia 800 and Lumia 710, will go on sale in Europe next month and represent the company's attempt to gain traction in the market dominated by Apple's (AAPL, Fortune 500) iPhones and Google's (GOOG, Fortune 500) Android operating system.
But Nokia has not yet committed to selling the phones in the United States. The company said it would begin selling Windows Phone devices here in early 2012, but it's not clear whether it will be a Lumia or another yet-to-be-released device.
Nokia did say it would sell U.S. devices next year built for the CDMA network, which Verizon (VZ, Fortune 500) and Sprint (S, Fortune 500) use, as well as the HSPA standard, used by AT&T (T, Fortune 500) and T-Mobile. Nokia's presence in the United States has been severely diminished in recent years, and it has not sold devices on the Verizon or Sprint networks since 2005.
As he unveiled the Lumia 800 in London, Nokia Chief Executive Stephen Elop said the company intends to be "leaders in smartphone design and craftsmanship." The top-tier Lumia 800 is based on the much-hyped N9 device, which Nokia unveiled earlier this year.
The Lumia phones put the emphasis on entertainment, navigation and sports, offering music mixes and a partnership with ESPN for mobile coverage.
The announcement follows Nokia's partnership with Microsoft in February. The phones, Elop said, were part of "a new dawn for Nokia."
Nokia also launched four new mobile phones that it said blur the line between smartphones and more traditional handsets by offering keyboards and touchscreens, combined with Internet access and integrated social networking.
Elop is under pressure to rejuvenate the company which, despite selling the highest volume of mobile phones worldwide, has suffered in the smartphone market. Earlier this year, Apple overtook Nokia to become the world's top smartphone maker.
Nokia announced last month that it plans to cut 3,500 jobs by the end of 2012. Those were in addition to 4,000 job cuts announced in April.