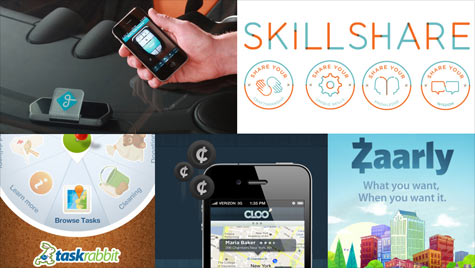 Apps now let you share everything - including yourself
NEW YORK (CNNMoney) -- If nature calls at 8.00 a.m. on your Starbucks run, good luck trying to use the bathroom. Chances are you'll find long lines, an out-of-order sign, or a loo hog who ties up the facilities a touch too long.
So the crew behind Cloo came up with a proposed solution: An app that lets you rent a pit stop. Pull up your iPhone, click a few buttons, and find a nearby person willing to time-share their toilets. Cloo's founders claim they're actively developing this app and plan to release it early next year.
Strange? Yep. But it's just the latest and oddest example of a broader trend: apps to let you share everything in your life. We're not talking about sharing your thoughts through tweets or Facebook status updates. These apps want you to rent out your home, your car and even yourself.
Rent-your-home site Airbnb, which launched in 2008, was one of the early pioneers. It has now booked more than 3 million nights on the service and lists property rentals in nearly 20,000 cities around the world. Investors sank more than $100 million into the venture in a recent funding round.
Getaround, a peer-to-peer car sharing service that allows users to rent out their vehicles when they're not using them, took home the grand prize at TechCrunch Disrupt in May. Meanwhile, the tech community is buzzing about Skillshare, a New York-based service that allows anyone to become a teacher and make extra cash coaching others on their hobbies and skills.
And then there's TaskRabbit, which lets you rent out your spare time. Customers can hire TaskRabbits to do everything from running errands to drafting love letters.
"I think people are going to become more comfortable about the idea of sharing things between their neighbors both online and offline, and so I see all of these markets really [becoming] more mainstream," TaskRabbit founder Leah Busque says.
Zaarly falls into a similar category. The new company serves as a marketplace that allows people to outsource tasks and buy products from people in their community. Its big bet -- that traditional e-commerce is evolving -- drew a $14 million investment this week from Kleiner Perkins Caufield & Byers.
"I'm a big believer that we're going through a pretty macro shift in the economy," says Craig Shapiro, founder of Collaborative Fund, which invests in early-stage "collaborative consumption" startups. "For so long we were ingrained to own stuff -- it was hyper consumption. I think there's a massive change, and we're at the beginning of sharing resources."
One of Shapiro's investments is Rentcycle, a company that stops short of peer-to peer rentals and lets people rent equipment, clothes and other goods from local stores.
CEO Tim Hyer thinks we're in the beginning phases of a shift.
"The recession was a big force in this movement. The idea of people just having less money to spend and less resources forced people to live within their means a little more," he says. "Rather than putting a lot of investment in things, you can pay for access rather than ownership."
But Hyer isn't yet offering peer-to peer rentals, mainly due to security concerns.
Underlying all of these sharing apps is the question of trust. Before I open up my bathroom to the public, I've got to know who I'm letting in the door. The last thing you want to do is rent out your home to a meth addict -- one recent Airbnb horror story. And what happens if your TaskRabbit shows up with a weapon?
But Busque thinks that the evolution of social networks like Facebook has helped make the technology smarter, and in turn, safer.
"Five years ago there's no way we could have built TaskRabbit and leveraged the technology pieces that we've done today -- things like social networking, mobile platforms and location-based analysis are all key components to building trust really between people," she says.
After one woman had her house ransacked after renting it on Airbnb, the company created a $50,000 insurance policy and doubled the size of its customer support team. To reassure those concerned about renting out their vehicles, Getaround teamed up with insurance giant Berkshire Hathaway.
Shapiro thinks that as the trend continues to grow, people will begin to develop an online reputation similar to their financial reputation in the credit realm.
"Instead of measuring financial health, you need to be able to look someone up and say 'is he trustworthy'?" he said.
That's a top item on his wish list for the Collaborative Fund's portfolio: A venture with a good formula for measuring trust online, to facilitate transferring it from the online world to the offline sharing realm.
"That's the area we're really looking at from an investment perceptive," he says.
But ultimately, it's up to people decide how much they'll share -- and where they'll draw the line.
For me? For the time being, my bathroom is closed to the public.