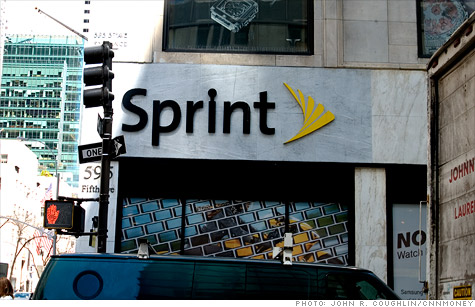 NEW YORK (CNNMoney) -- Sprint Nextel Corp. is still losing money and prime customers, but there are signs that the nation's third-largest wireless carrier has begun a turnaround.
The mobile provider said Wednesday that it added 1.3 million net customers during the third quarter, representing its biggest gain in five years.
But not all subscribers are created equal: The majority of those additions came from Sprint's Boost and Virgin Mobile brands, which offer prepaid service for customers that pay month-to-month for their wireless service.
The industry puts its highest value on customers under contract, since they provide consistent revenue streams. On that front, Sprint is hurting: It lost 44,000 net contracted customers during the quarter. Most of those customer losses came from the company's struggling Nextel service. The Sprint brand actually added a net 304,000 subscribers under contract over the past three months.
Particularly encouraging for the company is that all of those additions came without the help of the new iPhone 4S, which went on sale on Sprint's network for the first time on Oct. 14.
Sprint has lost net subscribers under contract in all but one three-month period since the second quarter of 2007 -- the quarter before the iPhone first went on sale. That's why Sprint is pinning its hopes of a turnaround on Apple's (AAPL, Fortune 500) iconic device.
The company did not announce sales figures for the iPhone, but it said customer demand has "surpassed initial expectations." Sprint also said that the iPhone customers will be among the company's most profitable.
Analysts have been skeptical of Sprint's iPhone plan, since Apple devices force carriers to offer a heftier-than-average subsidy to get the smartphone down to $200 for customers under contract.
Sprint acknowledged for the first time Wednesday that it has a four-year contract with Apple in which it will commit to buy a set number of iPhones, which Sprint estimated will cost about $15.5 billion. The company did not say exactly how many iPhones it would have to purchase, but it noted that its cost per added iPhone subscriber would be 40% higher than the average non-iPhone customer.
Still, Sprint Chief Financial Officer Joe Euteneuer told analysts on a conference call that the higher iPhone subsidy would be offset by customers sticking with Sprint, and by the iPhone's more efficient use of the 3G network. Sprint believes it will begin to make money on the iPhone by 2015.
The company also noted that the iPhone is the best form of advertising it can buy.
"The No. 1 reason why customers churn off our network is 'no iPhone,' and we believe the reason why most don't try Sprint is no iPhone," Sprint CEO Dan Hesse said on the call.
By the numbers
The Overland Park, Kan.-based mobile provider reported a net loss of $301 million, or 10 cents per share, compared to a $911 million loss a year earlier. Analysts polled by Thomson Reuters forecasted a loss of 22 cents per share.
Sales for the company rose 2% to $8.3 billion, topping analysts' forecasts of $8.2 billion.
Sprint announced earlier this month that it is about two years ahead of schedule on its expected rollout of new 4G wireless technology, deploying a network using the new industry standard called Long Term Evolution. That speedier-than-expected deployment means Sprint could catch up to the 4G coverage Verizon (VZ, Fortune 500) provides and match AT&T's (T, Fortune 500) roll-out plans by 2013.
But in the meantime, Sprint said it is running out of money and may need to draw down from its credit line or raise more capital to fund itself.
The company said Wednesday it has just $4 billion in cash on hand, with $1 billion in untapped credit. But it owes $2.3 billion in scheduled debt maturities, which are coming in March 2012. Sprint said that it will have to raise as much as $7 billion to pay for its network upgrade plan and other capital expenses.
Despite the narrower loss and better-than-expected sales, investors focused on cash and sent shares of Sprint (S, Fortune 500) down 9% Wednesday. The company's stock has tumbled by more than 42% this year.