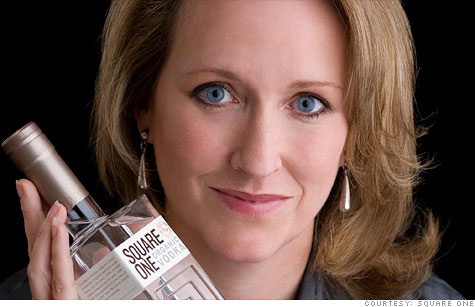 Allison Evanow is founder of Square One spirits, which makes a line of certified-organic liquors.
NEW YORK (CNNMoney) -- Five years ago, when Allison Evanow was out in San Francisco, she became intrigued with fancy "organic" cocktails. The problem was they were not completely organic.
The mixologists were going through "all this effort to buy ingredients that [were] local, fresh and organic," said Evanow. But they were "not buying organic or natural-made spirits."
Then one night before bed, she flipped through a magazine, and saw an advertisement for an all-natural spirit. The brand did not impress her. The next morning, she came up with a million-dollar idea: Square One, a line of certified-organic liquors.
Her husband got on board, urging her to develop eco-minded vodkas -- or someone else would. Her sister, Debbie Jones, did, too, and gave her financial backing after Evanow put together a business plan.
Evanow launched Square One in 2006 as the first line of organic vodkas to be labeled as such. A cocktail craze was quietly brewing, and bartenders were in need of new spirits to tinker with. Being independent and having a unique product are major plusses, said Evanow. This is one market where having a "million-dollar campaign behind you" can hurt, she said.
In 2008, Square One passed the million-dollar mark. "It's kind of a mental boost that you get," Evanow said about that milestone.
Evanow worked with Make Mine a Million $ Business -- an organization that nurtures female entrepreneurs -- two years earlier, which she credits with some of her success. Her previous experience in the wine and spirits industry came in handy, too. She was a vice president of marketing for Domaine Chandon, a sparkling-wine producer in Napa Valley; and did international marketing at Jose Cuervo International.
Square One is made in an Idaho distillery from organic American rye grown by a Montana farmer's co-op. The water for the liquor comes from the Snake River watershed at the Teton Range, and the spirits are infused with herbs or vegetables sourced from the best regions worldwide.
The first product -- Square One, unflavored vodka -- was followed by Square One Cucumber, Square One Botanical (a mixture of eight fruits and herbs) and Square One Basil (launched earlier this year). The spirits are sold in every state except South Dakota, and they are also available in Canada's Alberta and British Columbia provinces, Australia and New Zealand.
It was important for Evanow to go beyond the certified-organic label: Square One's vodkas rely upon 25% wind power at the distillery and are packaged with tree-free labeling (made from bamboo pulp, cotton and sugarcane).
"I've been a fan of Square One since the beginning," said Rick Blumberg, general manager of Woodfire Grill in Atlanta, which opened three years ago. "Our whole theme is about sustainability and organic practices." Square One Cucumber mingles with ginger, cucumbers and muddled mint in "The Farmer's Daughter," the restaurant's best-selling cocktail.
This year Square One became available to bars and restaurants in England, France and Spain, including The Savoy, a luxury London hotel. This expansion required producing a slightly smaller size bottle (700mL) to meet European standards. "That was quite a financial investment to say we're going to launch Europe," said Evanow.
To date she has only had one employee, who currently handles Square One's marketing, and relies upon a brand ambassador (a well-known mixologist in San Francisco). A national sales agency that works with five other brands represents Square One vodkas in the marketplace. "They're people who I can pick up the phone and talk to them like they're my salespeople, but I don't have the heavy overhead of a salary," said Evanow.
Despite giving birth to twin boys six months before launching Square One, "I'm not a stay-at-home mom," said Evanow. "I have to do something. The cocktail culture is a creative outlet for me, almost like alchemy."