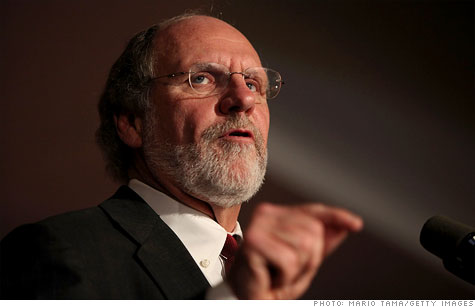 MF Global CEO Jon Corzine
NEW YORK (CNNMoney) -- Few outside of Wall Street have noticed the drama swirling around broker MF Global this week. But they should be paying attention.
The problems that have left the company reportedly scrambling for a buyer and facing the risk of bankruptcy could be just an early sign of how problems in Europe's high-profile sovereign debt crisis could be quietly causing problems for many U.S. financial companies. (MF Global: Sorting through the debacle.)
MF Global (MF) is just one of several Wall Street companies that could end up in trouble as banks are forced to take significant write-offs on the value of their European bonds.
"A lot of firms are going to incur pain as a result of the European debt crisis," said Sean Egan, managing director of Egan-Jones, the independent rating agency. "The problem is the transparency is far from acceptable."
Egan said that he believes most of the large U.S. "too big to fail" banks are probably going to be able to ride out the hits they take, although those hits could be massive.
Morgan Stanley (MS, Fortune 500), the major Wall Street firm that investors were most worried about, reported a much better than expected third quarter profit and said it had hedged all but $2.1 billion of its $5.7 billion in exposure to the five most troubled European economies.
Goldman Sachs disappointed investors by reporting a larger than expected loss in the quarter, its first since the financial crisis. But it also sought to assure investors by saying it had hedged all but $2.5 billion of its $4.2 billion in European exposure.
But even if the too big to fail banks survive the current crisis, the U.S. financial system could be hurt if smaller firms like MF Global end up disappearing. That's because whenever a small firm fails, it makes others appear more vulnerable.
"The whole MF Global crisis shows the fragility of the overall market and how much the market doesn't like investment banks," said an investment banker working with a potential buyer for MF Global. "Companies could see their standing evaporate quickly. Too small to save financial institutions are in the most precarious position."
Several sources involved in the potential sale of MF Global said the firm has until Monday to either find a buyer for part or all of the company, or it will be forced to file for bankruptcy protection.
That said, it will be pretty difficult to sell MF Global even in pieces because there are so many questions about valuation.
MF Global might not be too big to fail, but it is a significant player in the world of trading commodities and derivatives across the globe. It has 2,900 employees and revenue of $1.1 billion in its most recent fiscal year.
It is run by Jon Corzine, the former U.S. Senator and New Jersey governor who had previously run Goldman Sachs (GS, Fortune 500). Corzine took Goldman Sachs public before he was forced out.
On Tuesday, MF Global reported an adjusted loss of $17.9 million. Analysts had been expecting a profit.
But what really spooked investors was the company's disclosure that it had $6.3 billion in exposure to short-term European sovereign debt. Rating agency Moody's noted that was equal to about five times the company's tangible common equity.
Shares of MF Global lost nearly half their value Tuesday and are down 62% for the week. The stock briefly fell below $1 a share Friday morning before recovering a bit.
Fitch downgraded MF Global's debt to junk bond status Thursday afternoon, and Moody's did so as well later that evening. Standard & Poor's said it was weighing such a move.
"The firm's persistently weak earnings and leverage are no longer consistent with an investment grade financial institution," Fitch wrote in its downgrade note.
Egan puts MF's leverage ratio at 40-to-1, worse than the 32-to-1 ratio of Lehman Brothers when it collapsed.
The downgrades immediately drove up the cost of doing business for MF because it needed to post more collateral for these trades to get other firms to trade with them.
That lack of confidence in trading partners was a major factor in the financial markets meltdown in September 2008.
While no one is suggesting that the failure of MF Global could have the impact of the Lehman Brothers bankruptcy, that fear of the unknown related to European debt exposure is bad news for U.S. markets and the financial system, said Egan.
A person with knowledge of the situation told Fortune that MF Global on Tuesday hired boutique investment bank Evercore Tuesday morning to help it explore "strategic options." There was also a report from Bloomberg that it had been forced to drawn down all of its credit lines from major U.S. banks.
"We'd expect that was to meet collateral calls or potentially in anticipation of such action," said Niamh Alexander, an analyst at KBW.
An investment banker advising the company on a sale and an investment banker for a potential buyer told CNNMoney that a sale, in whatever form it takes, is expected to take place over the weekend.
The Wall Street Journal reported Friday that Goldman Sachs, State Street Corp. (STT, Fortune 500) and the Australian investment bank Macquarie Group Ltd. are among the companies considering an acquisition of MF Global or parts of it.
A spokeswoman for MF Global wouldn't comment on any of these reports.
But Egan said he wouldn't be surprised if buyers just tried to hire MF's talent rather than buying its troubled assets.
"The run of everything at MF Global - talent, customers, you name it, has already started," he said.