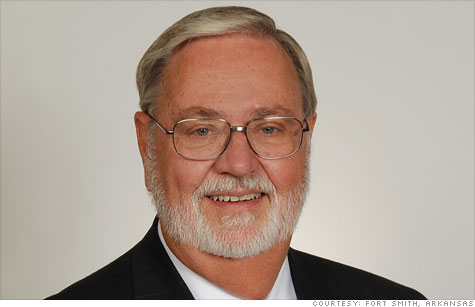 Fort Smith Mayor Sandy Sanders hopes that other factories can absorb the job losses created by Whirlpool and Fortis Plastics.
NEW YORK (CNNMoney) -- The city of Fort Smith, Ark., got hit with a double whammy on Friday, as one factory closed down and another faced imminent demise.
Whirlpool Corp. (WHR, Fortune 500) said it will shut down its factory next year, putting about 1,000 people will be out of work, in addition to the 800 lay offs that have already occurred at the appliance plant.
On the same day, Fortis Plastics shuttered its doors, resulting in another 90 lost jobs.
Mayor Sandy Sanders, who worked at Whirlpool for 32 years in human resources, acknowledged the "dwindling" demand in the area of manufacturing, noting that 5,000 people had worked at the factory when he retired in 1998.
Still, he insisted there are plenty of other factories in Fort Smith, a city of 86,000 people on the Oklahoma border. These include Baldor Electric Motors, Gerber Products, Hiram Walker, Kraft Foods (KFT, Fortune 500) subsidiary Planters, Rheem Manufacturing, Mars Petcare and Graphic Packaging (GPK).
"We still have a very intense manufacturing base here," said Sanders.
He said the city is adding enough manufacturing jobs to make up for at least some of the layoffs. For instance, Sykes Enterprises (SYKE) recently established a call center in the city, adding 500 jobs. And in the near future, he expects the Golden Living healthcare company to add 200 jobs, and Mitsubishi Power Systems to bring 300 new positions to the town.
The unemployment rate in Fort Smith is 7.9%, well below the national average of 9.1%.
But shuttering these factories certainly won't help matters. It's difficult to estimate the knock-on job losses from the closures, says Kimberly Friedman, communications director for the Arkansas Department of Workforce Services, but they will affect other plants indirectly.
"Whenever you have a large company in an area that's laying off, there are usually other companies, suppliers to that company, that are affected as well," she said. "So there's a ripple affect."