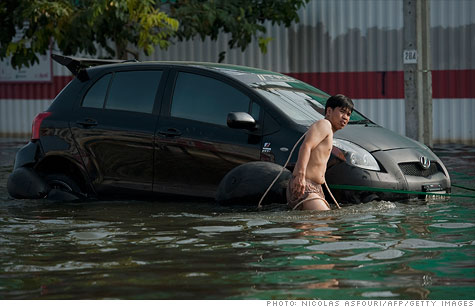 Catastrophic floods in Thailand have disrupted production for major automakers including Toyota, Honda and Nissan.
NEW YORK (CNNMoney) -- Still recovering from the Japanese earthquake, tsunami, and nuclear meltdown disaster, Asian automakers are now getting hit by another ecological nightmare: floods.
As regional manufacturing hub Thailand struggles with its worst flooding in decades, which has killed over 370 people so far, firms including Toyota (TM), Nissan (NSANY) and Honda (HMC) are scrambling to protect factories exposed to the rising waters.
Toyota, whose production capacity in Thailand is over 550,000 vehicles per year, said in a statement Thursday that a production halt at three plants in Thailand, in place since October 10, will remain at least until November 5.
As a result of this supply disruption, Toyota will suspend production at several North American plants on Saturday and will suspend overtime at all North American assembly plants next week. Production at facilities in South Africa, Indonesia, the Philippines and Vietnam will also be slowed.
"We will continue to monitor the supply situation in Thailand," Toyota said.
Honda said this week that floodwaters had entered one of its plants outside Bangkok that has an annual production capacity of 120,000 and has been closed since October 4.
"Due to the inability to access its facility, [Honda-Thailand] does not currently have a clear outlook for when production will resume," the company said.
Nissan has also suspended production in Thailand, as has U.S.-based Ford (F, Fortune 500), which said in its quarterly earnings report Wednesday that it was "working closely with its affected suppliers to return to production as quickly as possible and to minimize any potential impact in other regions."
Overall, auto production in Thailand will likely be down by roughly 130,000 units this year as a result of the flooding, industry analysis group IHS Automotive said in a research note this week.
"Global automakers' reliance on Thailand as a regional automotive parts supply and assembly hub has led to Asia-wide ramifications, with a number of them now likely to alter their supply chains and look for alternative short-term procurement arrangements," for example in Japan and China, IHS said.
The flooding follows months of monsoon rains and has already killed 373 people while affecting nearly 9.5 million others. Overall damage from the floods could top $2 billion, according to the Thai Finance Ministry.
Other key sectors in Thailand, including electronics and hard disk manufacturing, have also been severely affected.
Moody's Investors Service said this week that a continued production stoppage in Thailand could cut Honda's profits this fiscal year by 10%, but that Toyota and Nissan should fare better because their plants in Thailand have not yet suffered direct damage.
While US and Korean automakers should be largely insulated from the disaster, it comes as a further blow to the Japanese recovery, the researchers wrote.
"Because global capacity utilization among Japanese car makers is still recovering from the country's 11 March earthquake, tsunami and nuclear crisis, this further blow to their supply chain will delay a full return to pre-disaster output," Moody's said.