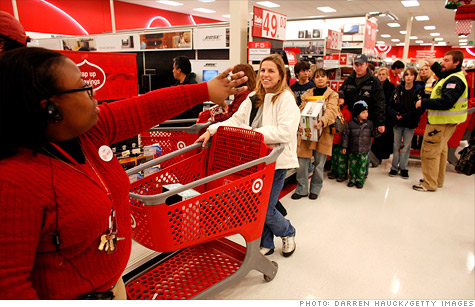 NEW YORK (CNNMoney) -- For shoppers eager to get a head start on their holiday shopping, Target is opening its doors nationwide at midnight on Black Friday.
"The holidays bring hectic schedules and tight budgets, so extending store hours and offering lots of additional ways to save makes Target a great choice for affordable, one-stop holiday shopping," Tina Schiel, executive vice president, said in a statement.
While other retailers like Toys R Us have opted to get a jump start on Black Friday by opening on Thanksgiving night in the past, for Target, which usually opens its doors at the crack of dawn on Black Friday, this is its earliest opening ever.
Target (TGT, Fortune 500) also said it is extending its store hours on other key shopping days later in the season. The retailer will be open from 7 a.m. to 7 p.m. or 8 p.m. on December 24 (Christmas Eve) and 7 a.m. to 11 p.m. on December 26, the day after Christmas.
Like Wal-Mart (WMT, Fortune 500), Target has also introduced a price-matching policy, which means shoppers can get a refund on the difference in price of a product if they find the same product advertised for a lower price locally by a competitor.