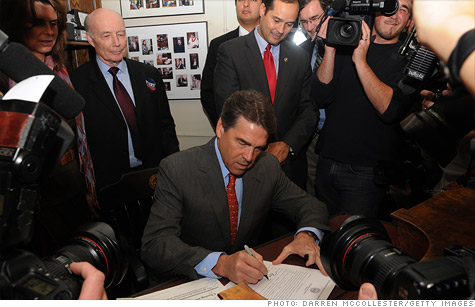 Cut those taxes, cut that spending.
NEW YORK (CNNMoney) -- Rick Perry has an economic plan. He wants the federal government to spend less money, and he wants huge tax cuts.
Oh, and a balanced budget by 2020.
Here's the rub: Perry's plan would drastically reduce the amount of money the government collects in taxes.
And with a balanced budget amendment, that would mean taking an axe to spending levels.
"Cuts of the magnitude required would effectively cripple most federal government programs," said Craig Jennings, a budget expert at the progressive OMB Watch think tank.
Perry wants to institute an optional flat tax rate of 20%, eliminate taxes on Social Security benefits, throw out taxes on qualified dividends and capital gains, while sacking the estate tax. Corporate taxes would decrease as well.
An independent analysis conducted by the non-partisan Tax Policy Center found that Perry's tax plan would "reduce federal tax revenues dramatically." For example, in 2015, the government would collect almost $1 trillion less in taxes under Perry's plan, a reduction of 27%.
"It's a huge revenue hole," said Roberton Williams, a senior fellow at the Urban Institute. "There will have to be larger spending cuts than otherwise needed -- just to compensate."
So if Perry wants to balance the budget, massive spending cuts will be required.
"It would be pretty much unprecedented," said Jennings. "When you make those deep cuts, you have consequences like fewer food inspectors and fewer programs for the poor. It's going to have a massive impact."
What programs would Perry target? Tough to say.
The candidate has pointed to a few specific cuts, including a 50% reduction in Department of Education funding for elementary and secondary programs, and cuts to the loan portfolios of Fannie Mae and Freddie Mac.
Asked about the difficulty of balancing the federal budget while slashing revenue, Perry said he is not worried.
"There is nothing wrong with lower revenue," Perry told FOX News on Sunday. "I think Americans are ready for Washington, D.C. to quit spending money."
In a twist, Perry's camp is now touting an alternative analysis of his economic plan -- one that predicts the plan will actually increase revenue, and eliminate the need for steep cuts.
But that analysis relies on a different method -- called dynamic scoring -- that attempts to predict the effect of a policy change on economic growth. It's a technique eschewed by many tax and budget experts.
"Nobody really has a model to do [dynamic scoring] well," said Howard Gleckman, a tax expert at the Urban Institute. "You can't do it credibly."
The analysis distributed by Perry's campaign predicts the tax cuts will have a huge simulative effect on the economy -- boosting gross domestic product to sky-high levels.
In 2020, for example, Perry's analysis assumes his tax cuts push growth up to $26.4 trillion -- 15% higher than what the Congressional Budget Office predicts.
All that growth means sharply elevated levels of federal revenue. It's not clear what Perry would do with the extra revenue, since sharply reducing the size and scope of government is one of his main campaign themes.
Perry's campaign stands by the analysis.
"There are numerous people that do different analyses," said Perry spokesman Mark Miner. "We're confident this scoring is accurate and unbiased."
Of course, the general election is still a year away, and any economic plan floated at this point will have to be revised as conditions change -- or as a future president negotiates the congressional mine field that surely awaits.