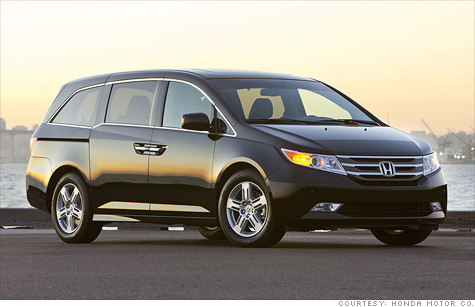 The Honda Odyssey is among the safest minvans that earned "Top Safety Pick" status in a new report by the Insurance Institute for Highway Safety.
NEW YORK (CNNMoney) -- Five minivans have earned the top safety rating in a new survey of rollover crash protection, but models from Nissan and Kia fall short.
In a study released today by the Insurance Institute for Highway Safety, the models receiving the "Top Safety Pick" award were the 2012 Chrysler Town & Country, Dodge Grand Caravan, Volkswagen Routan, Honda (HMC) Odyssey and Toyota (TM) Sienna.
The Nissan Quest was rated "acceptable," while the Kia Sedona received a "poor," the lowest-possible rating.
"Safety-conscious parents shopping for a family hauler should be pleased with today's minivan choices," David Zuby, the Institute's chief research officer, said in a statement.
"At the same time, the ratings show that major differences remain in this segment when it comes to protection in a rollover crash."
The vans' rollover protection was measured by pushing a metal plate against one corner of their roofs at a constant speed, the IIHS said. High-performing models had to withstand a force equal to 4 times their weight without caving in 5 inches or more.