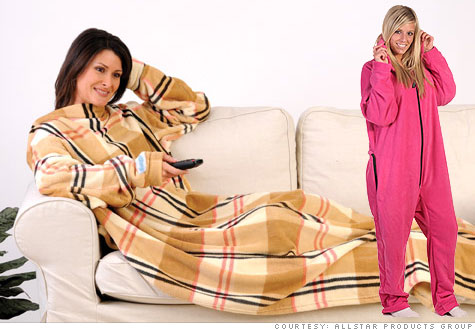 Ridicule of the Snuggie [left] stopped after millions were sold. Now other products, like the Forever Lazy [right] an adult fleece onesie, are vying for that same success.
NEW YORK (CNNMoney) -- Some advice for the Snuggie: Watch your back!
Three years after this blanket with sleeves turned the country into "Snuggie Nation," other wacky products are threatening to derail its phenomenal run.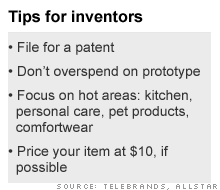 The competition includes the Forever Lazy, a fleece onesie for adults, Bake Pops, a utensil that creates cake on a stick, and Sift & Toss, a mesh filter designed to recycle kitty litter.
Sound laughable?
Inventors of such items and the companies behind them could have the last laugh. Even in a soft economy, consumers continue to show robust demand for quirky -- but highly functional -- products. Meanwhile, companies that market these products are revving up their campaigns, and independent inventors keep pitching new ideas.
"Two things are happening," said Scott Boilen, CEO of Allstar Products Group in Hawthorne, N.Y. "Innovation from large companies has dampened. And history has shown that the natural response among Americans to a struggling job market is entrepreneurship."
Boilen ought to know. Allstar turned the Snuggie into a cultural phenomenon with its corny, but memorable "As Seen on TV" ads.
His team gets pitched 5,000 to 7,000 ideas a year -- a level he calls an all-time high. Maybe 1,000 to 2,000 of those are "serious" pitches, he said.
AJ Khubani, founder and CEO of Fairfield, N.J., TeleBrands, agreed that the number of pitches has gone up. His 29-year-old company holds monthly inventors' days throughout the country, typically jam-packed with people pitching the craziest inventions.
TeleBrands has made a mint with many a bizarre yet oddly useful product. In 2006, Khubani invented Doggy Steps, an affordable staircase for dogs. Although there are similar products around, Doggy Steps has sold over five million.
In 2007, Khubani invented the Ped Egg, an egg-shaped foot file that shaves off calluses, which has since sold 45 million.
Part of the success formula behind "As Seen On TV" items is creating a product that is affordable, functional, and fills a common need, said Khubani. It also helps to get some marketing firepower behind it, too.
Both Allstar and TeleBrands use direct-to-consumer marketing, or infomercials, as well as colorful logos such as "As Seen on TV," which forge brand recognition.
Still, coming up with the next sensation is a long shot. "We'll do marketing tests on maybe just 100 of those ideas and aggressively get behind 10 inventions in a year," said Boilen.
"The odds that your idea will succeed is very slim," warned Khubani. TeleBrands looks at thousands of inventions each year and handpicks about 10 to take to market, he said. "Just look at Thomas Edison. A vast majority of his ideas weren't commercially viable," said Khubani.
But then there are those whose ideas are.
David Hibler and Tyler Galganski, both 26 and best friends from Brookfield, Wis., have known each other since they were two.
As college roommates, they knew they wanted to start a small business together and took the leap in 2009.
At the time, Hibler was working a 75-hour week as part-owner of a GNC franchise in Chicago. "I had no life. I was living for the weekends to be lazy," he said.
In his quest to find the ultimate clothing to maximize laziness, Hibler ordered an adult onesie. He found it lacking. "My feet were sweaty, the dropseat on the butt was attached with cheap Velcro. So it would open all the time," he said.
Convinced about an unmet need for comfortable adult onesies, Hibler and Galganski gave up their jobs and launched their online business called Forever Lazy -- a line of fleece one-piece footless adult pajamas -- out of Hibler's parents' basement in June 2009.
"We were selling laziness," said Hibler.
"We saw how well Snuggie did. We had a shot," said Galganski. The buzz was building slowly. And then Fergie of The Black Eyed Peas ordered one. The press picked up on it, and sales started to climb.
In December 2010, Allstar came calling. "We didn't know if we wanted to get a big company involved," said Hibler. "But we had to make concessions if we wanted this to become big."
Boilen said the Forever Lazy has the same success potential as the Snuggie, explained Hibler. Snuggie has sold 30 million units so far.
Hibler and Galganski signed an exclusive licensing deal with Allstar and will receive a royalty payment every quarter. They declined to give more specifics.
Allstar debuted Forever Lazy in an "As Seen on TV" infomercial in early September. Given that 80% of "As Seen on TV" sales today come from retail stores, Hibler and Galganski said they are excited to see their invention also selling at Wal-Mart (WMT, Fortune 500), Sears (SHLD, Fortune 500) and Walgreens (WAG, Fortune 500).
Boilen expects Forever Lazy to take off because "lazywear" is in demand right now. Allstar is producing and marketing the adult onesies in time for Christmas shopping. "In a down economy, it's less about products you want, and more about products you need," he said.