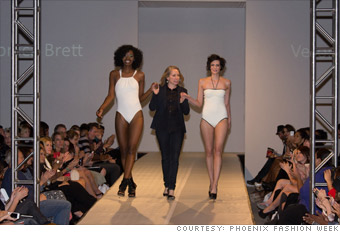 Company: Veronica Brett
Location: New York, N.Y.
Patricia Brett lost three aunts to breast cancer; her two younger sisters were diagnosed with it; and six first cousins all have the disease.
In 2002, Brett, an architect by training, was diagnosed with the BRCA1 gene, meaning there was an 85% chance that she would get breast cancer in her lifetime.
A year later, Brett underwent a preventive bilateral mastectomy and reconstructive surgery at age 39. Her changed body, however, made her realize how difficult it is for women who undergo mastectomies to find lingerie and swimsuits that are fashionable and fit properly.
This feeling was reinforced during a road trip in 2007 with her sister and niece. "My niece who was 29 at the time was getting ready to do the same surgery that I had," said Brett. "She was venting that afterwards she wouldn't be able to wear cute bras and swimsuits."
That's when a light bulb went off in her head. "I have a Masters in architecture from Yale. If I could design beautiful buildings, why couldn't I design fashionable swimsuits?"
So she launched Veronica Brett, a line of fashionable swimsuits for women with breast cancer in 2010, named after her aunt who passed away from the disease.
Today, her swimsuits, which are all made in America and priced between $68 to over $200, are sold in boutiques in the United States and in Canada. Next year, she expects to double her sales and cross the $1-million-in-revenue mark.
"I just had my first runway show in Phoenix," said Brett. "The models I used don't have breast cancer. This shows that my swimsuits can be worn by all women."