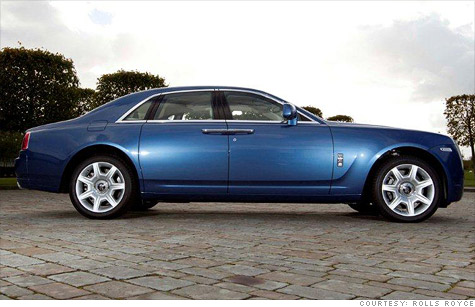 The Rolls-Royce Ghost, the least expensive Rolls-Royce model -- starting at $245,000 -- is being recalled. It shares much of its engineering with the BMW 7-series.
NEW YORK (CNNMoney) -- Rolls-Royce Motors Inc. is recalling almost 600 of its Ghost sedans in the United States because a circuit board could overheat, possibly causing a fire.
The recall is similar to one covering 32,000 BMW (BAMXF) cars equipped with 8- or 12-cylinder turbocharged engines. The Ghost, which is mechanically similar to the BMW 7-series sedan, is powered by a BMW-built 563 horsepower 6.6-liter twin-turbo V12.
Rolls-Royce is a division of the BMW Group. Prices for the Rolls-Royce Ghost, the least expensive model in the Rolls-Royce line-up, start about $245,000.
The recall applies to some 2010 model-year Ghosts, 1,900 of which are being recalled worldwide, 589 of those in the U.S.
A circuit board that controls a water pump used to cool the turbocharger after the engine has been shut off can overheat which could potentially lead to smoldering of the water pump.
"This may also lead to an engine compartment or vehicle fire," Rolls-Royce said in a letter to the National Highway Traffic Safety Administration, the government agency responsible for overseeing vehicle recalls.
If overheating occurs the driver would be warned by a message light in the car's gauge cluster.
As of late October there have been 102 cases of water pump failure in BMW vehicles, including two that involved engine compartment fires, according to the letter. None of the cases involved Rolls-Royce cars.
Rolls-Royce and BMW dealers will replace the water pumps in the affected cars, free of charge.