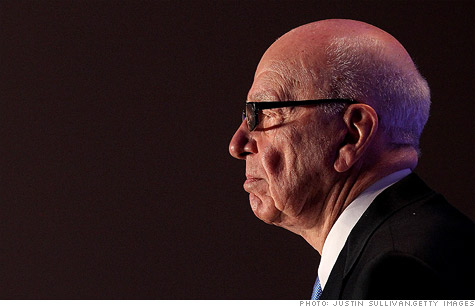 News Corp. CEO Rupert Murdoch pauses as he delivers a speech at the National Summit on Education Reform on last month in San Francisco.
NEW YORK (CNNMoney) -- A simmering scandal and disgruntled shareholders weren't enough to hold back News Corp these past few months, as the company reported a 7% increase in revenue that beat analyst estimates.

News Corp. said in a statement after the bell Wednesday that its revenue had increased to $7.96 billion for the quarter ending September 30 from $7.43 billion a year ago. Net income was $738 million, or 28 cents per share, down from $775 million and 30 cents per share a year ago.
Excluding charges for the closing of its News of the World tabloid and a fee tied to the company's decision to abandon its bid for British broadcaster BSkyB, News Corp. reported a profit of 32 cents a share.

Analysts surveyed by Thomson Reuters had expected the company to report earnings per share of 29 cents after charges on revenue of $7.7 billion.

Shares of News Corp (NWSA, Fortune 500) were up around 2% in after-hours trading on Wednesday.

The company has faced a mounting scandal in recent months over allegations that employees from News of the World had hacked into the voicemails of thousands of people, including a missing teenager who was later found murdered. There are also allegations that the newspaper bribed police for information.
News Corp shuttered News of the World earlier this year, but investigations of the alleged improprieties remain in progress. Rupert Murdoch and his son James were called to testify on the issue in July before the British Parliament, where they denied direct responsibility for the hacking.
At News Corp's annual meeting last month, a number of shareholders lambasted Rupert Murdoch and other executives for their handling of the scandal and called for a leadership change.
With the Murdochs in control of around 40% of News Corp (NWS) voting class B shares, there was little chance of Rupert or his sons being unseated from the board.
Still, in a rebuke to the family, 35% of shareholders voted against James, deputy chief operating officer and head of the company's international division, while 34% voted against Lachlan Murdoch.
Rupert retained his post as chairman, with only 14% of shareholders voting against him.
Shareholders have complained that the distinction between class B shares and non-voting class A shares of News Corp. gives the Murdochs disproportionate influence on the company.

At the shareholder meeting last month, Rupert Murdoch apologized for the hacking but defended the company, noting its steady revenue growth and saying the firm's history was "the stuff of legend."
With News Corp's stock up 15% so far this year, investors appear similarly bullish on the company even in the midst of the scandal.

"I think that the gain in the stock price recently shows that investors care less about the headlines that are coming out about the investigations of phone hacking and they care more about the operations," said Thomas Eagan, managing director of media equity research at Collins Stewart. "What we've seen is that the operations will continue to be very solid."
Should Rupert Murdoch step down, Eagan added, investors feel confident in News Corp chief operating officer Chase Carey, the most likely successor in the near term.
News Corp's holdings include the Fox broadcast and cable television networks, The Wall Street Journal and Dow Jones newswires and Harper Collins publishing.

Elsewhere in the industry, CBS (CBS, Fortune 500) will report its quarterly results after the bell on Thursday, while Disney (DIS, Fortune 500) and Viacom (VIAB, Fortune 500) will report next week. Time Warner (TWX, Fortune 500), the parent of CNNMoney, reported results Wednesday morning that topped forecasts.