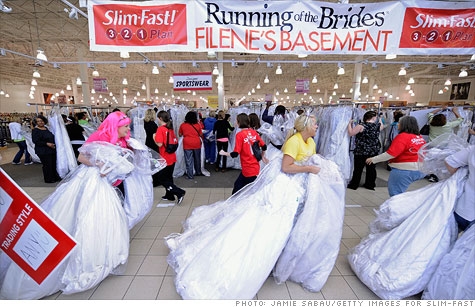 Filene's Basement, part of Syms Corp., will close its stores by January, meaning this past Friday's Running of the Brides was the company's last.
NEW YORK (CNNMoney) -- Educated or not, consumers just weren't shopping enough at Syms stores.
The discount department store chain, which operates 25 Syms and 21 Filene's Basement stores, couldn't cut it amid a sour economic climate and rising competition from larger rivals. Syms filed for Chapter 11 bankruptcy protection Wednesday and said it would shut down all of its stores by the end of January 2012.
"This has been a challenging time for Syms and Filene's Basement," said Marcy Syms, CEO of Syms Corp, in a prepared statement. "We have been faced with increased competition from large department stores that now offer the same brands as our stores at similar discounts."
When Syms bought Filene's Basement out of bankruptcy in 2009, the company thought that the combination would make them become more efficient and successful. That didn't happen.
In the fiscal year that ended in February, Syms Corp. posted a $51.7 million loss. So far this year, the company has lost $16.7 million. That was too tight for a company listing just $236 million in assets and $94 million in liabilities, according to its bankruptcy filing.
In March, Syms began to seek a buyer. Though there were some interested parties, Syms said in its filing that it "did not receive any viable bids from any of the potential strategic and financial buyers."
Meanwhile, the retailer closed two poorly performing Syms stores and one Filene's Basement location this year in an attempt to stay afloat. Syms also said that it had begun the process of shuttering five more Filene's Basement stores.
It became apparent, however, that absent a white knight, the company would not be able to stand alone. Its court filing revealed that Syms believed it would likely run out of money by the middle of November, hence the reason it sought bankruptcy protection Wednesday.
Typically, shareholders get wiped out in a bankruptcy, but the company said in its court filing that it expects "that there will be stockholder recoveries at the conclusion of their wind-down efforts." As a result, shares of Syms (SYMS), which had fallen by as much as 26% earlier in the day, rose 12% Wednesday.
The companies plan to shut their doors after taking advantage of liquidation sales during the holiday season.
The 52-year old Syms operates mostly in New England and the Mid-Atlantic, but also the Southeast.
Filene's Basement was originally part of the now-defunct Filene's department store, which opened its doors in Boston for the first time in 1909. The company is famous for its annual "Running of the Brides" in Boston, which just took place -- for the last time -- on Friday.
Filene's Basement had offered severely discounted wedding dresses, and brides-to-be would camp out early to be among the first to get the best deals.
The companies have nearly 2,500 employees combined.
"I want to express my appreciation to our employees, many of whom have devoted their careers to Syms and Filene's Basement," Syms said. "I also want to thank our educated consumers and bargain hunters for their dedicated support over many years."