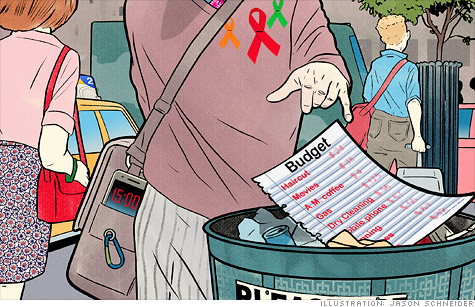 Trashing that budget means you'll stress about your finances less.
(MONEY Magazine) -- Are your finances keeping you up at night? Here are a few tips and tricks to break free and relax.
1. Ease off the budgeting
The Logic: Money (or its lack) is the nation's most common source of stress, reports the American Psychological Association. Making a detailed budget -- a widely advised fix -- only makes things worse, says Cleveland financial planner Kenneth Robinson, based on a decade of work with clients; the problem is that people hate to think about where they'll need to cut back.
The Tactic: Stop counting. Calculate what you need to save each month for your long-term goals -- retirement and college, say -- then have the money automatically pulled from your bank account or paycheck, if it isn't already. The remaining cash is yours to spend. "You don't need to know where every dollar is going," says Robinson.
2. Worry on purpose
The Logic: Restricting your worried thoughts to a preset block of time daily can ease anxiety, according to a 2011 study of work-related stress that confirmed prior research into this strategy.
The Tactic: Set aside a quiet time to review your worries -- say, your 401(k)'s balance or your credit card debt. Write it all down. After 15 minutes, stop; you can rehash your anxieties again tomorrow. "Within a week, most people realize they're not worrying as much," says Nancy Molitor, a psychologist on the faculty of Northwestern University.
3. Write a check
The Logic: Generosity appears to make people happier. A 2010 study from the University of British Columbia found that students who donated cash to other players in a game had decreased levels of the stress hormone cortisol.
The Tactic: Donate to charity, or help out a friend in need. "When you give money to other people, it helps you restore or validate a positive self-image as a nice person," says University of Louisville psychologist and professor Michael Cunningham.