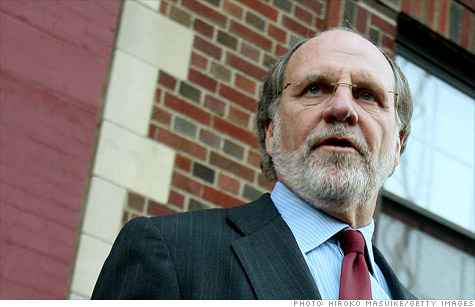 MF Global head Jon Corzine may be called to give testimony in the firm's bankruptcy case.
NEW YORK (CNNMoney) -- The trustee in the MF Global case requested authorization on Thursday to subpoena executives of the bankrupt brokerage following revelations that more than $600 million in customer funds have allegedly gone missing.
The request could force former New Jersey governor and MF Global (MFGLQ) CEO Jon Corzine to provide testimony over the alleged irregularities at the firm. (MF Global: Sorting through the debacle.)
"The Trustee submits that, based upon the circumstances of this case and allegations of misuse of segregated customer property, the proposed Subpoena Procedures are necessary and appropriate," attorneys for trustee James Giddens wrote in a motion filed Thursday.
Giddens' office said in an accompanying statement that the subpoenas were "part of his duty to investigate the debtor and, in due course, to issue a report to the Court, ... regulators, and the public."
Government officials said this week that $633 million was discovered missing from MF Global's customer's accounts after the firm filed for bankruptcy on Monday.
The brokerage came under pressure last week after revelations of its holdings of risky European debt spooked investors. This past weekend, executives at MF Global had been scrambling to sell the firm to Interactive Brokers Group, (IBKR) but the missing money scuttled the deal and forced it into bankruptcy.
The CME Group (CME), operator of the nation's largest commodity exchanges, said MF Global broke government and CME rules requiring it to keep its customers' funds separate from its own assets.
CME says the $633 million in question must have gone missing in the past week since they had conducted an audit just days prior to the disclosure of the missing funds.
The FBI and federal prosecutors are investigating the situation, according to sources close to the probe.