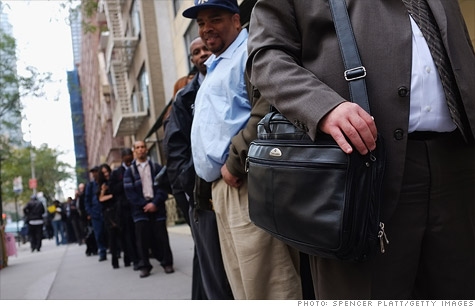 NEW YORK (CNNMoney) -- The job market may be showing signs of subtle improvement, as fewer Americans filed for their first week of unemployment benefits last week.
About 397,000 people filed for their first week of unemployment claims in the week ended Oct. 29, the Labor Department said Thursday. The number of claims fell 9,000 from the revised 406,000 in the prior week.
While that's not a remarkable improvement -- initial claims have been stuck at or around the 400,000 level since early April -- economists say looking over a longer time frame does show some encouraging signs for the economy.
"It's like water torture, or watching paint dry, or waiting for the water to boil," Jennifer Lee, senior economist with BMO Capital Markets, wrote in a newsletter. "Initial claims are improving but at a snail's pace."
The four-week moving average of initial claims -- used to smooth out volatility --dipped 2,000 to 404,500.
Meanwhile, the number of Americans filing for their second week of claims or more fell to 3,683,000, down 15,000, in the week ended Oct. 22, the most recent week available. It was the lowest level since April.
"The overall trend of improvement is encouraging. Companies are hiring, but they're only hiring at a very slow rate," said Lee in an interview. "There's so much uncertainty out there, and I think no one wants to take on that extra cost until they're sure there's demand for their products."
The latest data won't appear in October's jobs report, which the government is scheduled to release Friday.
Economists expect it to show the U.S. economy added 98,000 jobs in October, fewer than the 103,000 jobs added the month before. The unemployment rate is expected to remain at 9.1%.