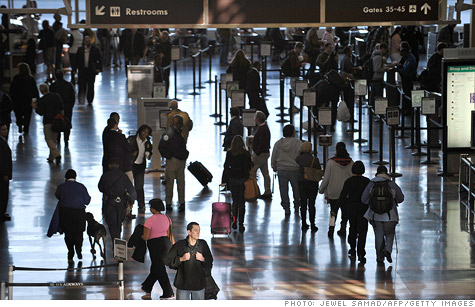 NEW YORK (CNNMoney) -- Fewer people will fly this Thanksgiving, but they will be as cramped as ever.
About 37,000 fewer people a day are expected to fly over the Thanksgiving holiday compared to last year, according to a report Thursday by the Air Transport Association of America (ATA).
The industry group said it expects about 23.2 million travelers will fly between Friday, Nov. 18 and Tuesday, Nov. 29, down 2% from last year and 12% lower than the peak volumes reached in the same period in 2006, before the recession curtailed spending.
At the same time, major carriers such as American Airlines (AMR, Fortune 500), US Airways (LCC, Fortune 500) and Delta (DAL, Fortune 500) are reducing the number of destinations they fly to or even flying less frequently to popular routes in order to cut costs.
That keeps the number of passengers in seats -- known as the domestic load factor -- on par with last year, according to the ATA's report.
Sunday, Nov. 27 and Monday, Nov. 28 will be the busiest air-travel days during the Thanksgiving holiday, the ATA said, followed by Friday, Nov. 18, with load factors exceeding 85%. Thanksgiving Day will have the fewest travelers of any day during the holiday time period.
"While demand is down from last year and remains well below the 2006 peak, passengers still should expect full flights during the Thanksgiving holiday travel season as airlines have begun to reduce capacity and limit the number of seats available for sale due in part to rising cost pressures," ATA Vice President and Chief Economist John Heimlich said in a statement. "Based on published airline schedules, these cuts are expected to continue through the winter."
Despite higher airfares, fewer flyers and higher fuel costs will take a large toll on the airlines' bottom line, the ATA said. For the first nine months of 2011, income sank 66% to $913 million from the year earlier, while fuel expenses rose 38.1%, according to an ATA tally of publicly reporting U.S. passenger airlines.
"Higher costs have outpaced higher revenues thus far this year, and the industry's razor-thin profit margin means that airlines are keeping less than one penny in profit for every $1 in revenue," Heimlich said. "It's not surprising we've seen a trend towards reduction of seating capacity."
According to a seperate report by travel site Hotwire, a whopping 82% of those planning to travel for Thanksgiving have not booked all of their travel arrangements as of Nov. 1, which likely means they will pay a premium for last minute airfares.