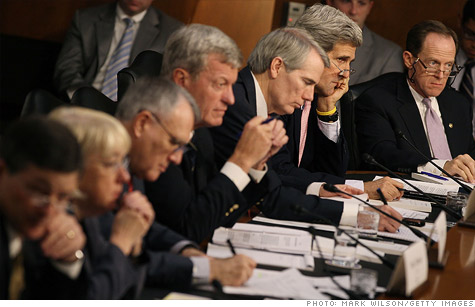 The super committee at work
NEW YORK (CNNMoney) -- More criminals on the street. Fewer border guards. More instances of food poisoning and less reliable weather forecasts.
Sound like fun? These scenarios -- and more like them -- could play out if the so-called super committee fails, according to a paper by centrist Democratic think tank Third Way.
The 12-person committee must come up with at least $1.2 trillion in deficit reduction over ten years -- and then get the rest of Congress to agree. (Super committee: Who are these guys?)
If that doesn't happen, heavy automatic spending cuts will hit military and discretionary budgets starting in 2013.
And that, Third Way says, would not be pretty.
Congress would still get a chance to distribute the cuts among specific programs and agencies, but if a blanket cut went into effect, a 7.8% average reduction would hit non-defense discretionary spending.
Budget cuts at federal law enforcement agencies would help 12,000 criminals avoid incarceration. And the number of federal prison guards could be slashed, along with the number of border guards.
The EPA would not be able to fully enforce the Clean Air Act, the number of federal food inspectors could decrease by as much as 600, luggage would go unscreened at airports and IRS enforcement of the tax code would suffer.
And if funding to the National Oceanic and Atmospheric Administration is cut, the quality of federal weather data could drop, making it difficult to accurately forecast hurricanes and other weather patterns.
David Kendall, a senior fellow at Third Way, said he doesn't think the public has caught on to exactly what $1.2 trillion in cuts would mean.
"We need to go from abstract fear to the concrete reality of cuts," Kendall said. "That's what's going to force the super committee to act."
Alarm bells are ringing at the Pentagon as well.
"Cuts of this magnitude would be catastrophic to the military, and in the case of the Army would significantly reduce our capability," Gen. Ray Odierno, the new Army chief of staff, said on Wednesday.
The chief of Naval operations said the cuts would "cause irreversible damage." The Air Force chief of staff ticked off high-priority programs -- like the the F-35 Joint Strike Fighter -- that would be see their funding cut.
Some Pentagon brass are even warning the cuts would spill into the public sector, hampering job creation and the economy at large.
"We have done that analysis and ... we would also have a severe impact to jobs, inside the department and inside the defense industrial base. And these are serious issues to contend with," Pentagon spokesman George Little said Wednesday.
Because the super committee usually meets in private, it's difficult to know how much progress is being made.
Many on Capitol Hill doubt the committee will be able to complete its task before its Thanksgiving deadline, and some lawmakers have questioned whether the trigger should be modified, or even discarded.
"The Congress is not bound by this," Sen. John McCain said last month. "It's something we passed. We can reverse it."
-- CNN Pentagon Producer Larry Shaughnessy contributed to this report.