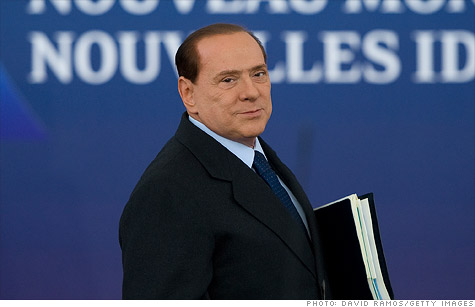 Italy's prime minister, Silvio Berlusconi, has come under heavy criticism for policies aimed at getting the country out from under its heavy debt load.
CANNES, France (CNNMoney) -- Italy has agreed to have the International Monetary Fund monitor the implementation of proposed fiscal reforms, European Union officials announced Friday.
Jose Manuel Barroso, president of the European Commission, and European Commission president Herman Van Rompuy said Italy voluntarily agreed to have the IMF publicly review its progress every three months.
Italian Prime Minister Silvio Berlusconi has struggled to implement policies aimed at reducing the nation's unsustainable debt load, including an unpopular plan to raise the retirement age.
But the measures are necessary to ensure Italy's "credibility" in the global financial markets, said Barroso. "There are, in fact, doubts in the market" about Italy's ability to follow through on promised belt-tightening. "That's an objective fact."
Indeed, yields on 10-year Italian bonds have risen above 6% recently, a level that the government cannot afford.
Barroso said IMF monitors will be in Italy next week to begin reviewing the government's progress.
Officials said Italy "invited" the IMF on its own. "We haven't put Italy in a corner, not at all," said Van Rompuy.
Still, Italy has been under pressure to demonstrate a commitment to get its fiscal house in order.
The concern is that Italy, the third-largest economy in Europe, could be engulfed in the debt crisis that has pushed Greece to the brink of default.
Van Rompuy insisted that the situation in Italy is not as dire as it is in Greece, where the government faces a confidence vote Friday.
Italy has debts equal to about 120% of its gross economic output. That would be a heavy burden to bear in the best of times, but Italy's economy has been stagnant for years, making it that much harder for the nation to get out of debt.
The challenge for Italy is to not only cut spending and cut its relatively modest budget deficit, but to also enact policies that will make its economy more competitive.