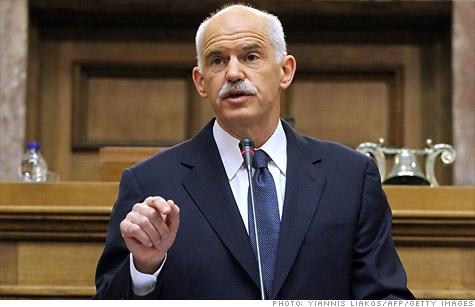 Greek Prime Minister George Papandreou faces a confidence vote, a day after backing off plans to hold a referendum on the nation's bailout deal.
(CNN) -- Prime Minister George Papandreou faces a crunch confidence vote Friday, after days of political turmoil sparked by his controversial proposal to hold a referendum on an international bailout for his country.
His socialist PASOK party has a tiny majority in parliament and it is unclear whether he will survive the vote, or what might follow if he does.
The political instability in Greece has caused political and financial jitters throughout Europe and beyond, as world leaders meet in Cannes, France, for the G-20 economic summit.
Among the concerns is the potential for Greece's woes to spread to major European economies like Italy, whose Prime Minister Silvio Berlusconi is struggling to gain support for austerity measures and may also face a confidence vote next week.
Borrowing costs for his government continue to rise amid the uncertainty. President Barack Obama stressed that the summit's most important task was to resolve the crisis in Europe to ensure global economic recovery.
Papandreou appeared to back off from his proposal to hold a referendum Thursday, saying it would not be necessary if the opposition were to support the tough austerity measures that accompany it.
Opposition leader Antonis Samaras responded that he would support the bailout but wanted Papandreou to step aside and for early elections to be held. "We are asking you to resign to give power to people to negotiate new measures," he told the prime minister.
"It's nothing that I can rule out, and I'm not clinging to any chair," Papandreou said about the prospect of giving up his job. "That's the political cost I'm taking on, me personally, for something which I did not cause."
Papandreou said he was not interested in being re-elected, only in saving the country from economic disaster should Greece default on its debts.
"Everything is on the table," Papandreou said. "Well, the government will be. But let's talk about it. Let's debate it. You don't expect -- out of the blue -- for a government to resign. That would be irresponsible." He added, "We cannot at this period of time leave a vacuum in power."
He called on Samaras "to come back to the room and participate in this conversation about forming a government, of a wider support for the good of the country."
As of early Friday, it was still unclear whether there would be a referendum on the bailout deal in December, as Papandreou had called for earlier this week, although it appeared unlikely.
Speculation was rife Thursday that the prime minister might resign, or that a government of national unity might be formed with a different leader at its head who could find consensus on how to handle the crisis.
Papandreou appeared hurt by criticism of the bailout itself, which was negotiated October 27 and would impose strict austerity measures on Greece, which has already seen angry public protests against cuts.
"We managed to get the biggest-ever package ever given to a country on the planet," he said of the deal, which would wipe out €100 billion in Greek debt, half of what it owes.
It comes with a promise of €30 billion from the public sector to help pay off some of the remaining debts, making the whole deal worth 130 billion euros ($178 billion).
"Please tell me," Papandreou said. "Name one government that has ever brought to Greece such a package."
Greek deal comes at a price
The package comes with strings attached that would require Greece to slash government jobs, privatize some businesses and reduce pensions.
Papandreou acknowledged that many Greeks would suffer under the plan, but said: "We have to go through this difficult process in order to come to the other end."
He called the bailout "the basis for the next new big leap" and urged Greeks not to be misled but to work together to resolve the matter. "National unity is the most important tool in order to get out of this crisis," he said, adding that he had asked for a referendum on the bailout "so it can be the decision of every Greek, every Greek family."
Finance Minister Evangelos Venizelos appeared to rule out a referendum earlier Thursday, saying: "As the prime minister said, it is clear that we are not going ahead with a referendum."
He said the government needs to show that Greeks support the package. If the Greeks were to vote against the deal, that could result in their country exiting the euro zone -- the grouping of 17 European nations that use the euro as a common currency -- and wreaking havoc on the markets.
French and German leaders have already warned Greece that a "no" vote would mean Greece has to leave the euro zone, and that their first priority is safeguarding the currency union.
"The euro is the beating heart of Europe," French President Nicolas Sarkozy said Thursday in Cannes. "We cannot allow the euro to break up -- that would be the break-up of Europe."
Saying that there was no other way to solve the problem, he added: "We have said clearly that we want Greece to stay in the euro -- but the precondition of that is that they want to."
Speaking earlier in the day alongside Sarkozy, Obama said: "We spent most of our conversation focused on strengthening the global economic recovery so that we are creating jobs for our people and stabilizing the financial markets around the world.
"The most important aspect of our task over the next two days is to resolve the financial crisis here in Europe." Despite the uncertainty, European stock markets all closed up Thursday after new European Central Bank President Mario Draghi announced a rate cut, intended to boost growth.
The bailout was greeted last week with fanfare as a way to keep debt woes in Greece and other European nations from spilling across other borders, threatening the 17 nations united under the euro currency.
-- CNN's Elinda Labropoulou and Jim Boulden in Athens, Ali Velshi in Cannes, Matthew Chance in Rome, and Laura Smith-Spark in London contributed to this report.