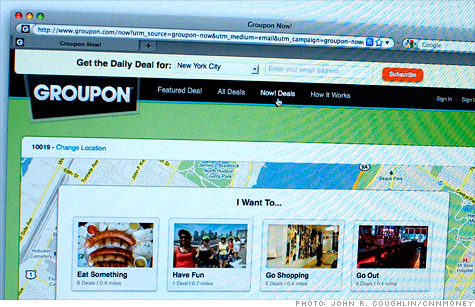 NEW YORK (CNNMoney) -- Shares of daily deals site Groupon closed at $26.11, roughly 31% above their initial offering price in the public debut of the stock on Friday.
Groupon (GRPN) had priced its initial public offering at $20 a share late Thursday, the last step on a rocky journey to its debut. Under the ticker GRPN, Groupon began trading Friday at about 10:45 a.m. ET on the Nasdaq stock exchange, and opened at $28, 40% above the target.
Raising $700 million for the company, Groupon's IPO was the second-biggest tech IPO in history, behind the $1.7 billion Google raised in 2004.
The stock ticked up as high as $31.14 before falling back to around $28 later in the morning. In mid-afternoon trading it remained in that range, at $28.29, and then slipped a bit just before the close.
Groupon ended the day with a valuation of more than $16 billion. At that price, the pioneering coupon company is worth more than many traditional retailers, including Whole Foods (WFM), Best Buy (BBY, Fortune 500) and Bed, Bath & Beyond (BBBY, Fortune 500).
Because of Groupon's recognizable name and cachet, some stock analysts had expected an even bigger rise at the open, particularly because a miniscule number of shares were being offered. At the last minute, Groupon's underwriters threw in an additional 5 million shares to make the offering 35 million shares.
That's still only around 6% of the company's outstanding shares -- a very small amount, given the public's interest in the company.
"I think 'highly disappointed' is the operative phrase," said David Menlow, president of IPOfinancial. "With such a limited number of shares offered in what could have been unlimited demand, I thought thought the markets should have responded better. Now that it didn't happen, it's causing people to take a second look at the company's fundamentals."
Those fundamentals aren't pretty: Since the moment Groupon filed its paperwork, it's been hit with criticism for unorthodox accounting measures, which led to several downward revisions of its financials.
Groupon's initial filing in June drew heavy scrutiny for the company's reliance on a nonstandard metric called "adjusted consolidated segment operating income." The unwieldy "ACSOI" stripped out Groupon's steep costs for marketing and acquiring new subscribers.
Under pressure from regulators, Groupon re-filed in August to instead use only standard accounting procedures. As a result, the operating profits that Groupon cited in its first filing became operating losses.
Then, in late September, Groupon revised its reported revenue to "correct for an error" -- namely, including in its revenue the cash it has to hand back to merchants for their share of the coupons Groupon sells. That effectively whacked Groupon's sales in half, to $688 million for the first half of 2011, down from the $1.5 billion it claimed previously.
Tech IPOs this year: Several other online companies have gone public in 2011 -- and while they've generally done well on their first trading days, their longer term performance is mixed.
In an ominous sign for Groupon, professional networking site LinkedIn's (LNKD) announced late Thursday that it would offer another $100 million in stock to raise even more money for the company following its May IPO.
Shares more than doubled after LinkedIn's IPO, even though the company turned only slight profits in 2010 and 2006, and has otherwise has been in the red every year since its 2003 inception. The stock is still trading well above its IPO price, but shares fell 7% Friday after it announced a $1.6 million loss for the third quarter.
Other tech IPOs posted gains on their first day and then fizzled. Internet radio service Pandora (P) performed well in its IPO, even though the unprofitable company had warned investors that it expected to continue losing money "through at least fiscal 2012." But shares are down more than 15% since its debut, and they're trading below the IPO price.
Shares of Demand Media (DMD), an online content creator that faced its own accounting smackdown, closed 33% higher on its first day. Those shares are now trading below $8, compared with the IPO price of $17.
Groupon's IPO could set the stage for Zynga -- the gaming company filed in June and is rumored to start trading this month -- and serve as an indicator of the overall IPO market.