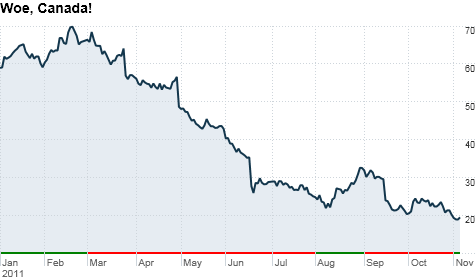 Shares of Ontario-based Research in Motion have plunged as investors worry about weak sales of BlackBerry phones and PlayBook tablets.
NEW YORK (CNNMoney) -- You don't win anything for fourth place. In the world of smartphones and tablets, investors seem increasingly nervous that BlackBerry maker Research in Motion will not make it to the medals podium.
Competition in the mobile device industry is brutal. Apple (AAPL, Fortune 500) and companies running on Google's (GOOG, Fortune 500) Android are winning the biggest raves from consumers and investors. Then there's Microsoft (MSFT, Fortune 500), which has hitched its operating system wagon to Nokia (NOK) on the hardware side.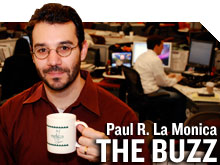 That leaves RIM (RIMM) in an unenviable position. Its stock has plunged more than 67% this year. Notable missteps -- including a lengthy global service outage and delays with its newest PlayBook tablet -- are only making things worse.
But has the company been punished enough? At $19 a share, the stock is now trading around book value, which is what a company is worth when you subtract its liabilities from its assets. In theory, it's what a company is worth if it were to be liquidated.
Things aren't going great at RIM. But they're not that bad, right?
Well, let's just say that the RIM bears do have a strong case.
Analysts expect the company's per-share earnings to fall nearly 25% in the fiscal year ending this coming February and to be flat in fiscal 2013. Based on momentum, it won't be a surprise if analysts eventually trim their forecasts further and predict a profit decline for fiscal 2013.
Simply put, RIM needs a device or devices that can excite consumers. It can't just rely on its core "enterprise" market of big businesses. Yes, it still has an impressive list of about 70 million subscribers, but it is losing market share.
According to research and estimates from Canaccord Genuity analyst Michael Walkley in Minneapolis, RIM was second in global smartphone market share in 2008. With 16.2% of the customer base, RIM's piece of the pie was behind only Nokia's.
But by the end of next year, Walkley predicts that RIM's market share will have been nearly cut in half, falling to just 8.4%. That would leave RIM trailing new industry leader Samsung, as well as Apple, Nokia and HTC.
That's what scares investors. Even though RIM has actually been adding subscribers over the past few years, because the overall smartphone market has gotten bigger, it is losing share.
Tech stocks are valued on their growth versus their competitors. Treading water -- or worse -- against your rivals won't cut it.
"Tech stocks with poor fundamentals could stay cheap forever. It's hard for us to see how RIM can stay competitive against Apple and Android," Walkley said.
Shaw Wu, an analyst with Sterne, Agee and Leach in San Francisco, agreed. He pointed out that investors are looking at RIM's current troubles and are pricing in an increasingly bleak future.
Wu said the recent BlackBerry e-mail glitch may have been the last straw for some investors -- even though there is the promise of new phones coming soon, running on BBX, a combination of the BlackBerry operating system and the widely hyped QNX operating system.
"It's pretty sad what's happened. RIM still has a shot to turn it around," Wu said. "But the service outage did not help. It's unacceptable and they have nobody to blame but themselves."
So even though RIM still has much in its favor and is not on the precipice of imminent financial disaster, Wu said investors can't help wondering if RIM is even capable of regaining its former leadership role.
"RIM is not going to be losing money anytime soon, but people fear that may happen down the road. It's like what happened with Nokia. People once thought it could never lose money, and then it did," Wu said.
Still, RIM may have little downside left at this point. Alkesh Shah, an analyst with Evercore Partners in New York, said that the stock has probably bottomed in the near-term.
Shah maintains that RIM's $1.4 billion in cash and more than 10,000 patents should serve as a floor for the stock. That last point is key. Tech giants are engaging in a patent war and many once struggling companies have become attractive because of their intellectual property.
Google bought Motorola Mobility largely as a patent play. And on Thursday, mobile software company Openwave Systems announced a deal to license patents to Microsoft. Shares of Openwave (OPWV) rose nearly 10% Friday.
"Openwave is another reminder of the value of intellectual property," Shah said. On the flip side, he thinks that the patents merely protect RIM from further share declines.
"RIM still has significant challenges," he said. "It won't bounce anytime soon, since there is no catalyst until the phones on the next operating system comes out sometime in 2012."
Reader comment of the week .. and run, Mrs. Buzz, run! Lots of tweets this week about the craziness in Europe. Stocks moved up and down on the latest rumors, which were flying fast and furious from across the pond
My favorite comment came from a Twitter follower who goes by the name of @sharkridingbear on Twitter. He doesn't give his real name either, as he is signed up as "lloyd pancakes." And he has a link to a blog called Guynance.
I think I am developing a bit of a man crush on Ottawa native "lloyd," since his Twitter bio is hilarious too: "Just a guy with a crown that's riding a shark that's concurrently riding a bear explaining finance and talking Jays and Sens." The icon is a cartoon depicting this.
Anyway, he tweeted that "This market is like a craps table. It needs a big 'RISK ON' button that lets you win until Europe rolls a 7."
Nice one. I am a sucker for a good gambling analogy. But I think that Europe has crapped out several times already, and I'd be betting the "don't pass" line when it comes to Greece.
Finally, I'm off all next week. Mrs. Buzz is running the NYC Marathon Sunday. (Go Beth! So proud of you!) I figured next week would be a great time for a staycation as she recovers from the grueling 26.2 miles. The Buzz column (and tweets) will return on November 14.
I hope Greece and Italy are still around when I return.
The opinions expressed in this commentary are solely those of Paul R. La Monica. Other than Time Warner, the parent of CNNMoney, and Abbott Laboratories, La Monica does not own positions in any individual stocks.