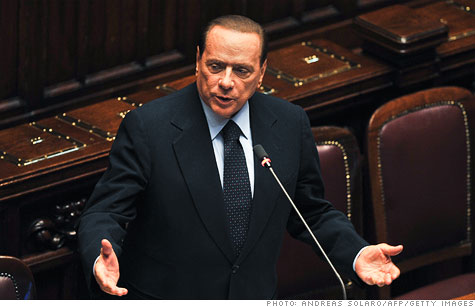 (CNN) -- Italian Prime Minister Silvio Berlusconi denied rumors Monday that he might resign.
"The rumors of my resignation are groundless," a message on his official Facebook page said.
A press aide to Berlusconi also told CNN he had no plans to resign.
On Saturday, tens of thousands of demonstrators gathered in Rome to voice their opposition to his government and its reforms.
Berlusconi, who has served as prime minister for 10 years, could face a vote of confidence this week over his handling of Italy's economy. Analysts say he may no longer have the support of a majority in parliament.
He has survived many confidence votes in the past, and has argued that now is not the time to change the country's leadership.
A crucial vote on budget reform measures is expected in Rome Tuesday.
Italian bond yields hit record highs Monday, getting perilously close to the 7% mark. The 7% level isn't an automatic bailout trigger, but it is the level that prompted bailouts for Portugal and Ireland.
Many protesters over the weekend called for Berlusconi to step down, and said they want immediate elections. Others pushed for a technocratic transitional government to guide Italy through the difficult months to come.
Berlusconi said Friday at the G-20 economic summit that Italy had agreed to let the International Monetary Fund "certify" its reform program, a step designed to boost investor confidence.
Italy's President Giorgio Napolitano has warned of a "grave crisis of credibility" regarding Italy's commitment to reform and said structural reforms agreed to in Brussels last month must be implemented.
International concern has focused on Italy -- the third-largest economy in the eurozone -- in recent weeks, amid concern that the financial crisis centered on Greece might spread. The ripple effects of a meltdown in Italy would be far more serious for the global economy than a collapse in Athens.
Although Italy's economy is in much better shape than Greece's, borrowing costs for the Italian government rose to a euro-area high of 6.43% Friday, adding to the pressure. The nation has debts equal to about 150% of its economic output.
"Greece is to Europe what Washington state is to the United States, but Italy is more like Texas or California," said Niall Ferguson, author of "Civilization: The West and the Rest."
"This is a really big economy and it's thought of as one of the cores of the European Union," Ferguson said Monday on CNN's "American Morning."
"So, this is really a sign that Europe is in dire straits. And I think we have to look ahead to further crises because it's very hard for the Europeans to solve this problem."
There are growing fears that Berlusconi's government no longer has the strength to push through the austerity measures needed to get the economy back on track.
These include tax increases and raising the retirement age by two years to 67.
Although Italy passed a package of austerity measures in September, including tax increases, some economists fear that without further reforms its debts could become overwhelming -- and there would not be enough money in the European rescue fund to bail it out.
Italy has one of the largest bond markets in the world, worth an estimated 2 trillion euros (about US $2.8 trillion).
Experts say the recent lofty interest levels are particularly concerning because the ECB has been buying Italian bonds since the start of August. The move initially pushed yields below 5% but that was short-lived.