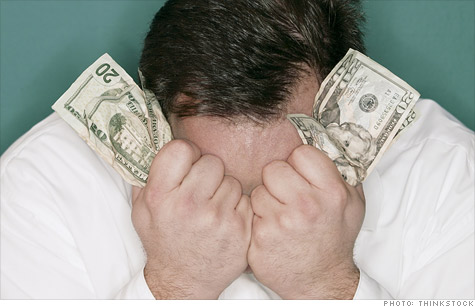 Wall Street bonuses are plunging this year by up to 30%, says Johnson Associates.
NEW YORK (CNNMoney) -- Occupy this, Wall Street: Corporate bonuses are expected to plunge as much as 30% this year compared to 2010, according to a closely watched report released by Johnson Associates on Tuesday.
Johnson blamed the "challenging market environment" and the "sluggish and uncertain" economic recovery, along with international instability, for the 20% to 30% decline in year-end compensation.
Alan Johnson, managing director of Johnson Associates, told CNNMoney said that bonuses can range from $10,000 on up to the millions. But this year's "representative" bonus is about $75,000, he said. That's not an average, he said, but more of a median, meaning that it's more representative of a typical Wall Street bonus.
Bond market bankers will be the hardest hit, with compensation expected to plunge 35% to 45% for individuals in fixed-income. Johnson attributed this to "high levels of uncertainty and decreased liquidity."
But other areas of banking are weathering the storm more effectively. Johnson said the bonuses for commercial and retail banking are in a range of negative 5% to up 5%.
"They're generally not the most highly paid people, but their business is more stable," said Johnson.
Individuals in the high net worth category were at the top of the pack, with anticipated bonuses ranging from flat to a gain of 5%.
Johnson said that bonuses for Wall Street workers who service high net worth individuals are better insulated than most in weathering economic turmoil.
Weyman Gong, chief investment strategist at Signature who specializes in high net worth individuals and families, said they tend to be conservative investors, which helps to protect them from market volatility.
"They don't come to advisors to get rich," he said. "They come to advisors to preserve their wealth."