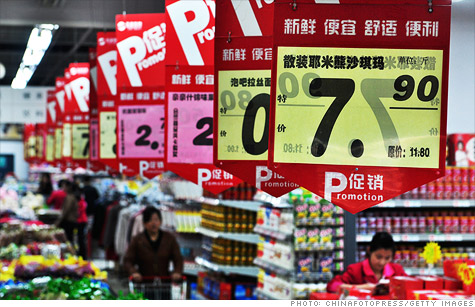 People shop in a supermarket in Binzhou, China. China's consumer price index showed inflation lost momentum for the third month in a row in October.
NEW YORK (CNNMoney) -- Over the past year, China's government has enacted various measures to curb rapidly rising prices, without sacrificing economic growth. So far, those efforts seem to be working.

Prices were up 5.5% from a year ago in October, according to the Consumer Price Index released by China's National Bureau of Statistics early Wednesday.
While that's much faster than 3.9% annual inflation in the United States, for China it may be a baby step toward sustainable economic growth.
"Prices on everything from rents to haircuts, have decelerated somewhat in the last few months, and I think it is a good sign," said Sung Won Sohn, economics professor at Cal State University Channel Islands. "That's exactly what the government has been trying to deliver."
Just three months earlier, Chinese consumers were being squeezed by prices that were rising as fast as 6.5% year-over-year.
But inflation has slowed gradually every month since July, and according to one government official it's likely to come down even further, to about 5% by the end of the year. (The Chinese government officially aims for a 4% inflation rate).
"At present, prices are stabilizing and are under overall control," Peng Sen, vice-chairman of the National Development and Reform Commission said in an online statement two weeks ago.
Food prices are typically one of the biggest drivers behind Chinese inflation, and lately, the price of pork, a key staple, has started to come down. Declines in vegetable prices have also helped.
As recently as July, food prices were up by a staggering 14.8% annual rate, but they have since moderated to a 11.9% rate in October.
Food makes up roughly a third of the government's official CPI figure, but in reality, it could account for even as much as 80% of a family's spending, in many rural parts of the country, Sohn said.
Meanwhile, housing-related prices were up 4.4% in October, down from a recent high of 6.2% year-over-year increases in June.
The Chinese government has fiercely been trying to tame the country's housing boom, and inflation overall.
Since last year, it has lifted interest rates five times and bank reserve requirements nine times, and has also imposed limitations on homebuyers.
Tightening credit while still allowing for robust growth can be a delicate balancing act for the Chinese government. Fears have run high that instead of deflating the housing boom slowly, the government could cause the sector to suddenly collapse, taking the Chinese economy with it in a so-called hard landing.
It's true, China's economic growth has slowed recently as the government has focused on curbing inflation. But Chinese growth is still so strong, it remains the envy of many Western nations.
Now fears about a hard landing are beginning to wane, as both measures -- inflation and economic growth -- appear to be slowing very gradually.
"It doesn't look like the Chinese economy is crashing at this point," said Jay Bryson, global economist for Wells Fargo. "That's good news for the global economy, which wants a strong China right now."
--CNN's Helena Hong in Beijing contributed to this report