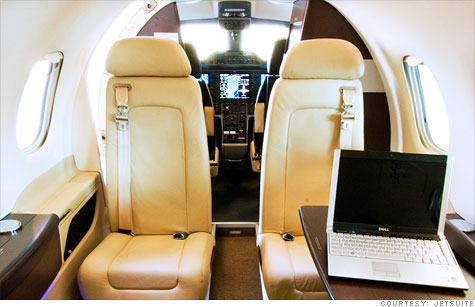 The luxe cabin of a JetSuite Phenom 100, which seats four passengers.
NEW YORK (CNNMoney) -- Flying in a private jet used to be the ultimate status symbol, but the recession completely knocked the wind out of the industry -- until now.
Private jet travel is staging a comeback. As major airlines are hiking airfares and cutting routes, and long lines at security and delayed flights weigh on travelers, private jet carriers are seeing the first increase in demand since 2008.
In fact, 12% of wealthy Americans (those with a net worth of $5 million or higher) said they plan to boost spending on private jet travel this year, up from 9% in 2010, according to the Luxury Institute's wealth survey.
It's not only the rich: Less affluent consumers are also starting to trade up, as some private jet firms lower prices to lure in new business through flight-sharing deals and social networking campaigns on Facebook that offer last-minute deals.
Another sign that things are looking up: Strong sales of Gulfstream Aerospace's latest and greatest luxury liner, the G650, which holds about 14 to 16 passengers and costs a cool $64 million. The company is entirely sold out of the plane for the next five years and it hasn't even begun deliveries on it yet, according to Jeff Miller, a spokesman for the company.
"[The private jet industry is] not going to get back to where it was at its peak in the late 1990s, but anything is better than where we are," said aerospace analyst Richard Aboulafia of the Teal Group.
Over the past few years, the struggling economy put the brakes on private jet travel. Businesses mostly did away with executive jets and luxury travelers downgraded to first-class commercial flights. To add insult to injury, rising gas prices and the environmental impact from carbon emissions also put private planes out of favor.
Then there was the 2008 gaffe when the CEOs of the Big Three auto companies flew on private jets to Washington to request taxpayer bailout money. "That was the nadir," said Alex Wilcox, CEO of JetSuite, which runs a small fleet of Phenom 100s that seat four passengers.
But finally, things are looking up.
To bring flyers back, some jet companies, like Berkshire Hathaway's (BRKA, Fortune 500) NetJets, which let members share a small portion of the cost of owning a private plane, have lowered prices significantly. But even fractional ownership doesn't come cheap. On Flexjet, for example, the cost of an initial investment in a private plane -- the same as buying one-sixteenth of a plane -- starts at $200,000 for 50 hours of flight time a year.
Nevertheless, Flexjet says its fractional business is up 120% year-over-year as of August.
For those with a little less to spend, small charter firms can cost substantially less, especially since many have been slashing fares recently.
JetSuite now offers one-way trips from Los Angeles to Las Vegas for less than $1,000 -- split the cost four ways and each passenger only shells out $250 for a private flight to Vegas. That's nearly the same as the cost of a one-way first-class ticket.
The jet carrier also introduced "SuiteDeals" in April where fans on Facebook can buy last-minute legs for $499.
That may be just enough to reel in more travelers, said Harlan Platt, a professor of finance who covers airline industry at Northeastern University's College of Business Administration in Boston.
"Having the ability to tell people 'I just flew in on my private jet' " is a big part of the allure, he said. In addition to the convenience and substantial time savings, of course.
But it's not just the super-rich and aspirational consumers that are supporting this niche industry.
Corporate clients make up a majority of the private jet travelers and, as profits improve, more businesses will take advantage of this mode of transportation -- even if environmental concerns persist, Platt said.
For business travelers, the speed and convenience of a private plane is particularly attractive, especially when it's billed to an expense account.
"From a convenience standpoint it's a no-brainer," said James Chitty, founder of PlaneClear, a private jet charter membership company based in New York. "If time is money, that's a big deal."
"When people of means decide that the extra $10,000 [to fly on a private plane] is worth it, you'll know the economy has left the contraction," said Platt. That may be "the best leading indicator of the whole economy."