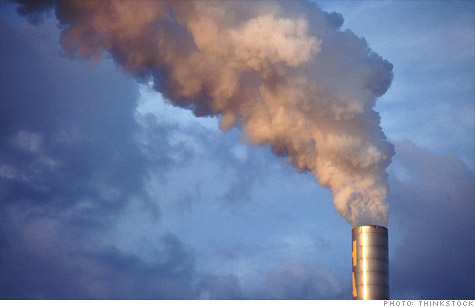 International Energy Agency says the world is embarking on oil and coal projects and will 'lock itself into an insecure, inefficient and high-carbon energy system.'
NEW YORK (CNNMoney) -- The International Energy Agency warned Wednesday that the world faces serious dangers from global warming unless it radically alters its planned investments in new oil and coal facilities.
Under current policies, oil use will rise 14% by 2035 and coal use will surge 65%, mostly from the developing world.
The resulting greenhouse gas emissions over the next 25 years will be equal to three-quarters of the total emissions from the previous 110 years combined, and will cause a 3.5-degree Celsius (6.3 Fahrenheit) rise in global temperatures, well above the 2% increase set as a target by global leaders.
"Without a bold change of policy direction, the world will lock itself into an insecure, inefficient and high-carbon energy system," IEA said in its annual World Energy Outlook. "Governments need to introduce stronger measures to drive investment in efficient and low-carbon technologies."
It's a particularly strong warning from an agency whose main task is to coordinate global stockpiles of oil in developed countries, in case there's a supply disruption.
It also comes at a pertinent time for the energy debate in the United States. Critics of the proposed $7 billion Keystone pipeline expansion, slated to carry oil from Canada's oil sands to ports on the U.S. Gulf Coast, are using this argument as a key point in their opposition to the project.
IEA also said that unless countries in the Middle East and North Africa invest $100 billion a year over the next five years in new oil infrastructure, the world could see oil prices jump to over $150 a barrel "in the near term."
Investments of that magnitude will be a challenge for many of those countries, especially in light of the disruptions and social spending promises made during the Arab Spring uprisings.
The report noted that while oil use is expected to jump 14%, actual cars on the road are expected to double -- again, mostly from demand in the developing world. Those new cars are expected to be more efficient than today's models helping to curtail the rise in oil consumption.
Still, the world will need to produce 99 million barrels of oil a day to meet that new demand, up from 87 million currently. IEA says that 90% of that new supply will have to come from Middle East and North African countries.
Underestimating technology's impact: Forecasting agencies like the IEA are often criticized by those in the industry for making conservative predictions and underplaying the role of technology.
Indeed, many in the oil industry argue that new technologies enabling the development of shale oil, as well as deepwater drilling and other enhanced technologies, will allow for much greater oil production from places like Canada, Brazil and the United States.
Similarly, those in the solar industry predict their panels will be cost competitive with coal in the next few years, facilitating a massive shift away from fossil fuels and towards renewable energy.
But IEA does not see things that way. The agency is calling for renewables to make up just 18% of world energy supply by 2035, up from 13% today.
But it's clear IEA wants to see more renewables. Although the agency didn't call for specific policies, typically "stronger measures to drive investment" would include things that make fossil fuels more expensive so renewables can compete, or mandates to use more renewable power.
Making fossil fuels more expensive could be done by enacting a tax on carbon emissions or laws limiting their release.
Europe has such policies, as does Japan and, more recently, Australia. Even China and India have enacted strong mandates for renewable energy use.
Policies in the United States to drive investments in renewables include a 30% tax credit for wind and solar projects and a mandate requiring greater fuel efficiency from vehicles and the use of more biofuel.
The Obama administration, along with some Democrats in congress, has been trying to pass laws limiting the amount of carbon that can be emitted and a mandate requiring utilities to buy a certain percentage of their power from renewable sources like wind and solar. The idea is that by providing a market for renewables, the price will come down as they reach economies of scale.
But those efforts have been foiled by Republicans and some Democrats in Congress, who argue it would raise energy prices too much and that the technologies will be adopted when they can compete in an open market.