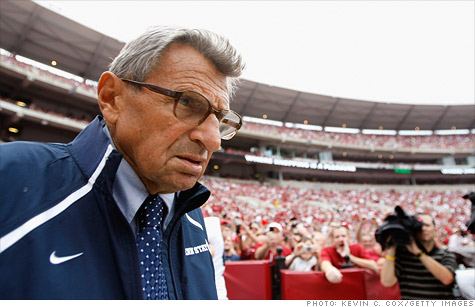 The child abuse scandal that led to the ouster of Joe Paterno as Penn State football coach will also leave a scar on one of the most profitable teams in the country.
NEW YORK (CNNMoney) -- Beyond the human tragedy of the child abuse scandal engulfing Penn State football, there is a significant financial cost that is likely to be suffered by one of the most lucrative sports teams in the country.
Its revenue of $72.7 million from football last season was the fifth highest of any college program in the country, according to a CNNMoney analysis of figures reported by each school to the Department of Education.
And when comparing revenue to total expenses, Penn State football's profit of $53.2 million was second only to the University of Texas' total of $71.2 million.
Penn State reported an additional $24.1 million in athletic revenue not specifically assigned to one team or sport. Much of that is in general merchandise sales and sponsorships, and much of that revenue was driven by the popularity of football, according to Marc Ganis, head of SportsCorp Ltd., a sports marketing firm.
That money is more at risk in the near term than the school's long-term contracts for television coverage, its membership in the Big 10 Conference and the like.
"Their brand has been irrevocably tarnished," said Ganis. "In a matter of days, they have plummeted from being perceived as the cleanest, most ethical brand in college sports to the lowest of the lows. Moral breaches of this magnitude are not easily forgotten or dismissed in our country."
Ganis said perhaps the most significant near-term dollar risk for Penn State is the damage the scandal -- which cost Hall of Fame coach Joe Paterno his job -- could do to fundraising, which is not included in the reported athletic department revenue.
"They used Paterno like crazy," he said. "This iconic figure was a magnet for fundraising. Now he's radioactive."
The next hit could be to long-term sponsorship deals.
"Many of the sponsorships came from companies wanting to be associated with something that had always been seen good and admirable," he said.
If the scandal affects Penn State's ability to recruit top players, that could hurt its on field success, and affect ticket sales and other revenue down the road.
In the short run, demand is still strong for tickets to the team's final home game this Saturday against the University of Nebraska. FanSnap, which tracks ticket prices across numerous ticket resale websites, estimates the average ticket price for the game at about $148. There are less than 1,000 tickets being listed for sale, according to FanSnap, at a stadium that holds 106,572 fans.
"There's a lot fewer tickets for sale than I would have expected for a normal game," said Mike Janes, CEO of FanSnap. "We haven't seen a rush in purchases, but the number of tickets for sale has dropped as sellers pulled their tickets off the market. The ticket price is a bit lower than expected. But the bottom hasn't fallen out."
A representative of Penn State's athletic department did not return a call seeking comment on the program's revenue and profits.