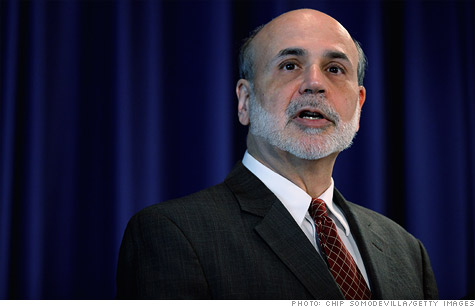 Fed Chairman Ben Bernanke
NEW YORK (CNNMoney) -- Take that Rick Perry! Ben Bernanke headed down to Texas to rally the troops Thursday, and didn't get treated so "ugly" after all.
The Federal Reserve Chairman spoke to soldiers at Fort Bliss, offering up tips to improve their job prospects and personal finances. His speech -- along with a question-and-answer session -- came about three months after Perry, the Texas governor and a Republican presidential candidate, mildly threatened Bernanke and called him "almost treasonous."
"If this guy prints more money between now and the election, I dunno what y'all would do to him in Iowa, but we would treat him pretty ugly down in Texas," Perry said back in August.
According to CNN's El Paso affiliate KFOX, Bernanke greeted about 250 soldiers before sunrise after they flew home from Iraq. He was also given a tour of one of the base's training centers, which offers classes in financial planning.
Bernanke urged soldiers to take advantage of any available training programs to boost their job skills and personal finance know-how, and upon leaving the military, to use the G.I. Bill to fund a college education.
"While you are in the military, take advantage of training opportunities," Bernanke said in his prepared remarks. "Many specific skills learned in the military -- nursing and healthcare, mechanics, computer programming, police and security work -- transfer to civilian jobs."
Bernanke's comments are part of a push in Washington to help America's military. Veterans from the recent wars in Afghanistan and Iraq have a 12.1% unemployment rate, well above the national 9% average. Overall, 240,000 Americans who served in the military from 2001 on are currently unemployed.
Earlier this week, the Senate voted to take up a bill aimed at helping unemployed veterans. The bill gives employers tax credits of up to $5,600 for hiring those who have been unemployed longer than six months. It would also give employers a tax credit of up to $9,600 for hiring long-unemployed disabled veterans.
Bernanke didn't delve into that topic as part of his speech Thursday, and also spoke very little of monetary policy, other than to explain to the soldiers what the Federal Reserve's role in the economy is.
"Supporting job creation is half of our marching orders, so to speak; the other half is controlling inflation," he said, adding that while high unemployment remains a challenge, he at least expects inflation to remain low for the "foreseeable future."
Europe's debt crisis also remains a threat to U.S. economic growth, Bernanke said.
"I don't think we'd be able to escape the consequences of a blow-up in Europe," he said.
Bernanke has recently borne heated criticism from not just Perry but most of the Republican presidential candidates.
Mitt Romney has said he would be "looking for somebody new" to run the Fed, while former House Speaker Newt Gingrich and businessman Herman Cain have pledged to fire Bernanke. Meanwhile, Texas Congressman Ron Paul has been saying for years he wants to dismantle the Fed altogether.
On Thursday, a marine in the audience asked Bernanke to respond to those criticisms, urging him to explain what a world without the Fed would look like.
"It's not a very realistic proposal," Bernanke said. "Essentially, every country in the world has a central bank."