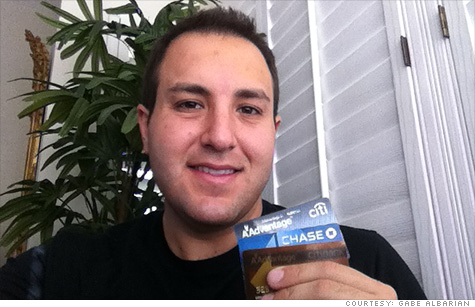 Gabe Albarian checked out credit unions and Internet banks hoping to find an alternative to the big banks, but he just couldn't make the switch.
NEW YORK (CNNMoney) -- Donna Startz likens her experience as a Bank of America customer to an abusive relationship.
"It's really like battered wife syndrome," she said. "No one listens to what I'm saying. They just keep coming back with whatever they want to give me. And you keep hoping it will change, but it never changes -- it's like being caught in Groundhog's Day."
After more than 10 years of fighting with representatives about poor customer service and exorbitant fees, she is finally breaking off the relationship.
But for other megabank customers, cutting ties with their financial institution is a much more complicated matter. While the big banks keep hitting them with fees, they're addicted to the extensive and convenient ATM networks, easy-to-use online banking portals and automatic bill payments -- features they worry won't be as advanced at smaller community banks or credit unions.
Bells and whistles: Ada Vaughan, who had a checking, savings and brokerage account at Citibank for 19 years, was getting fed up with fees, especially the new ones popping up on her checking account. So last month she decided to leave the bank.
"It just seemed like everything was a fee, and I didn't want to keep dealing with it," said Vaughan, who lives in Chicago.
She considered moving her money to a small community bank but the more she thought about it, the more she feared she'd miss the features offered at a big banks like Citi. Vaughn also had an account at Chase where she said she was paying fewer fees. She ultimately decided to consolidate all her accounts there, instead of switching to a smaller institution.
"I went with Chase partly because I have a small business so I need a bank that can do international wiring, and community banks use clearing companies so it can take days," said Vaughan. "Plus, I'm kind of addicted to good websites and bill payments and all of that stuff, and if I went to a community bank, I don't know if I would get that same quality."
Upon hearing about Bank of America's plans to introduce a new debit card fee, Gabe Albarian of Westlake Village, Calif. said he checked out several credit unions and Internet banks in hope of finding an alternative to the three big banks he currently uses (Bank of America, Chase and Citibank). But he ultimately decided he would miss the big network of ATMs and brick-and-mortar banks.
"I did highly consider switching to a credit union. However, availability and the proximity of banking branches is of major importance to me," Albarian said. "I also considered online banks, like ING Direct and Ally bank, and even though their interest rates are very attractive, their lack of brick-and-mortar banking branches was not attractive."
Don't leave us! We'll change!: In many cases, customers at big banks who have worked up the gumption to leave often struggle when their bank comes back and sweetens the deal, convincing them to stay.
Carol Sankar, who has banked at what is now Wells Fargo for six years, was so outraged by the transfer charges and checking account fees she kept getting hit with that she went to Charlotte Metro Credit Union last week and opened an account.
"I think it is sad that these institutions are taking advantage of millions of loyal customers," she said.
But when she went to Wells Fargo to withdraw the money from her accounts and transfer it to her new credit union account, she couldn't go through with it.
Upon telling the bank she planned to leave, they immediately offered to waive all of her monthly checking account fees for 24 months if she'd agree to stay. They also offered her more products, like a free savings account for her son. It was enough that Sankar decided to give Wells Fargo a second chance.
Leaving is just too much work: For other megabank customers, switching to a smaller institution is just too much of a hassle.
James Joy from Armonk, N.Y., has business accounts, personal accounts, credit cards and a mortgage at Chase. When he started noticing fees show up in his account, he looked around at credit unions and community banks and found that they had much smaller -- or no -- fees. But he's not sure the effort of switching accounts is worth the trade-off of zero fees.
"Yes, smaller banks are very nice and personable, but it's just such a hassle and time commitment to switch over all my debit cards and credit cards," said Joy. "I think I'm going to stay put for the time being. Plus, [Chase] came out and said it won't introduce that debit card fee anymore, so that uproar has died down at least."