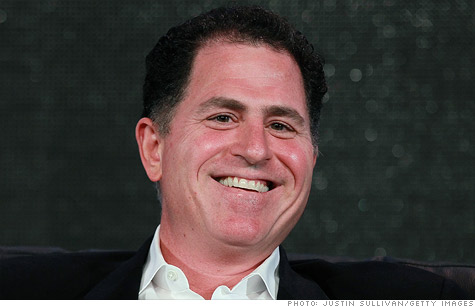 Dell CEO Michael Dell said if he could start over today, he'd launch a business in China.
PALM DESERT, Calif. (CNNMoney) -- If visionary technology company founder Michael Dell could start up a business all over again, where would he do it now?
One word: China.
"I would go to China at age 19 and start my company there. It's a much better environment," said Dell's (DELL, Fortune 500) CEO in a conversation with Charlie Rose at Ernst & Young's Strategic Growth Forum in Palm Desert, Calif.
Dell has followed what's now become almost a cliched trajectory for billion dollar tech visionaries by dropping out of the University of Texas at Austin at age 19 to build a computer company that would fundamentally reshape how personal computers were made and sold.
Now, 46 years old, Dell remains at the helm of his Austin-based company after a two-year hiatus a few years ago.
In his conversation with Rose, he did his best to fend off several rounds of questions about how the new generation of college dropouts, and big-time rival Apple (AAPL, Fortune 500) are disrupting his business.
Dell is still the number two PC maker in the United States but third-place Apple has started to nip at its heels, according to a recent Gartner survey.
Overall, PC sales have been hampered by the explosive growth of smartphones and tablets, and Dell has been hit especially hard, with its third-quarter PC shipments dropping 7.2%, according to Gartner, compared with Apple's 21% growth.
While Dell has no plans to exit the PC business, the CEO said he hopes to roll out an iPad rival, without giving any specifics about timing or what such a device might look like.
"We live in a multidevice world," he said, adding that he'd most likely seek a partnership with Microsoft (MSFT, Fortune 500) if his plans come to fruition. "There are a billion and a half PCs out there and most run Microsoft," he said. "People like it when things work together."
Dell also said that he expects the distinction between tablets like the iPad and the Android and a more traditional Dell PC to inevitably disappear. "Today there's a pretty clear line between the tablet and the laptop," said Dell. "In the future, that line will get really blurry and you'll see lots of different devices in all shapes and sizes."
Again refusing to cede any ground to Rose on a need for Dell to reshape its business model away from PCs, which he said generates half the company's revenues and one-third of its profits, Dell did say his company would keep up its aggressive pace of acquisitions by deploying some of its roughly $16 billion in cash.
Dell has executed roughly nine acquisitions recently, and the CEO said he expects that aggressive pace to continue.
Dell said that unlike Apple, which become known for a build it and they will come mantra, his company will stay solely focused on building and expanding on what the customer wants. And emerging markets, such as China, India and Brazil will be a driving force behind those plans.